** I was provided with a copy of this title for the purpose of this review. However, my own opinion was used and not influenced in any way.
It's Catching The Infectious World of Germs And Microbes
By Jennifer Gardy, PhD – Illustrated By Josh Holinaty
My daughter loves to read books that are educational. She wants to know everything and anything she can about the world around her. Recently I was sent a copy of It's Catching The Infectious World of Germs and Microbes by Jennifer Gardy, PhD. This book not only  taught my daughter about the world of germ and microbes but it captivated her interest and she has read this title at least 10 times. She has even memorized many of the germ and has brought them up several times in our conversations. This has truly became one of her most read and most favorite books. Since she loves it so much I think it best to let her review this book in her own words!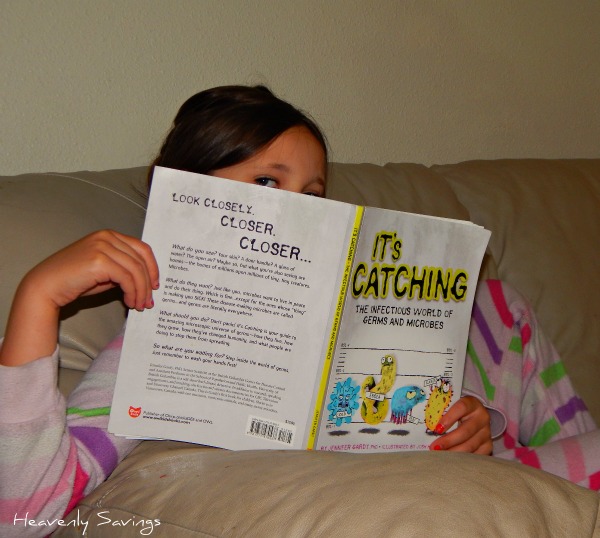 Ashes Thoughts (Age 10)
The book It's Catching is useful and helpful. I learned that the flu is actually does not include throwing up. There is usually no vomiting in the flu. It is not listed as a symptom. I also learned about the bio safety of Ebola. That was also very interesting. I like the pictures and the information. I also liked to read about the author Jennifer Gardy. She put the book together in a great way and I love to read it. I like that there is a lot of pages and many, many germs and microbes that I was able to learn. There is even some activities in the book like how to raise your own pet mold. I can't wait to try that with my Mom.
On the Back
Look Closely.
Closer.
Closer…
What do you see? Your skin? A door handle? A glass of water? The open air? Maybe so, but what you're also seeing are homes – the homes of millions upon millions of tiny, tiny creatures Microbes.
What do they want? Just like you, microbes want to live in peace and do their thing. Which is fine…except for the ones whose "thing" is making you SICK! These disease-making microbes are called germs…and germs are literally everywhere
What should you do? Don't panic! It's Catching is your guide to the amazing microscopic universe of germs – how they live, how they grow, how they've changed humanity, and what people are doing to stop them from spreading.
So what are you waiting for? Step inside the world of germs. Just remember to wash your hands first!