** I was sent a copy of this title for the purpose of this review. However, my own opinion was used and not influenced in any way.
Race For Your Life, Charlie Brown
I love that they are still coming out with Charlie Brown movies. It is so nice to be able to share something wholesome with my family. In the Race For Your Life, Charlie Brown you will watch Charlie and the gang compete with a not so nice gang in a race. Of course those are the only ones racing….there is also a team for the girls as well as Snoopy and Woodstock on a team of their own! Your family will love the crazy antics along the way. From the diplomatic way the girls solve each problem to the carefree way of Snoopy and the boys. Will the kind loving personalities of Charlie and his friends be able to win the race against the not so nice guys? You will have to watch and find out!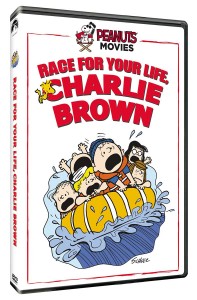 On the Back:
Ah, the joys of camp: the fresh air! The lousy chow! The obnoxious kids from that other tent! But Charlie Brown, Lucy, Linus, Snoopy, Woodstock and the rest of the PEANUTS gang are ready to face whatever camp throws at them. And when the day of the Big Rafting Race comes around, they'll fearlessly take to the water, pitting the boys against the girls – and Snoopy and from a bevy of bunkhouses bullies. Teamwork, courage and leadership are the keys to success. Will Charlie Brown have what it takes to be a leader?
From Press Release:
Race For Your Life, Charlie Brown was released on February 10, 2015
Approx. Runtime: 76 minutes
SRP: $14.99 U.S./16.99 Canada
DVD Specs:        Widescreen enhanced for 16:9 televisions
                                           English Mono Dolby Digital
                                           French Mono Dolby Digital
                                           Spanish Mono Dolby Digital
Subtitles:                          English, French, Spanish, Portuguese
U.S. Rating:                      G
Canadian Rating:            G