* I was sent product for the purpose of this review. However, my own opinion was used and not influenced in any way.
Teenage Mutant Ninja Turtles #TurtleTakeover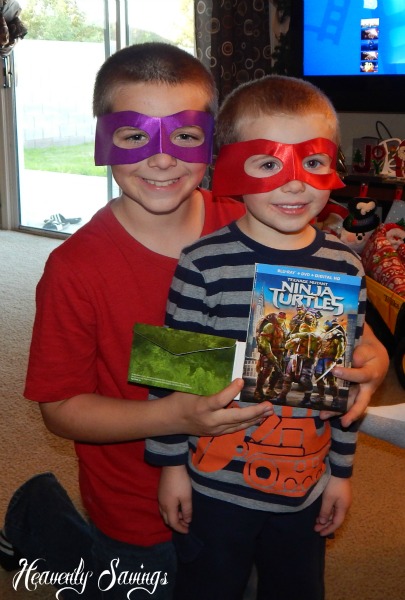 My Thoughts
I remember the first time Teenage Mutant Ninja Turtles came out. My brothers and I could not wait to watch it. As soon as it was out on video my brothers and I begged our parent to get it for us. We used to watch it all the time.
I am so glad that this new Teenage Mutant Ninja Turtles was released. It was a movie that not only reminded me of my childhood but it was also a great movie to watch with my family. Recently I was able to watch Teenage Mutant Ninja Turtles with my nephews. They are huge turtle fans just like I was when I was their age. Plus the DVD comes with fun masks for the kids to wear!
In Teenage Mutant Ninja Turtles you will be taken back to your childhood. The characteristics of each turtle is still the same…but in this movie you will get a lot more action and even a great back story into how they became into existence! I also loved the humor throughout the movie that kept not only the kids interested but also the adults! Truly a great movie and I can't wait to see what they come up with next!
On the Back
The teenage Mutant Ninja Turtles are bigger and better than ever in this blockbuster hit loaded with nonstop action and laughs! When New York City is in trouble, it's up to these four ninja-fighting, pizza-loving brothers to save it. Aided by determined reporter April O'Neil (Megan Fox) and their wise master Splinter, these unlikely heroes must face their ultimate nemesis – the evil Shredder.
Want in on more Teenage Mutant Ninja Turtle fun? Now you can view a live 24 hour web cam of the cute Turtles before they became Ninjas 🙂 http://www.teenagemutantninjaturtlesmovie.com/turtlescam/
Are you a Ninja Turtle Fan? Have you seen the movie yet? What did you think?