Gifts for Girlfriend from Personalization Mall + Facebook Contest!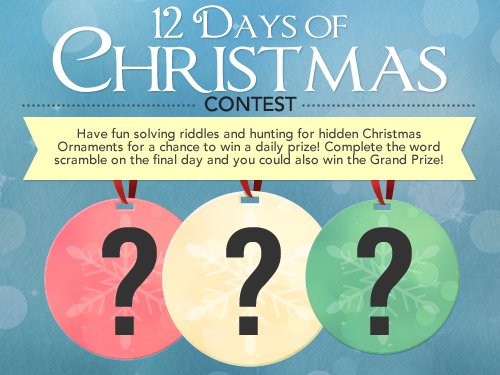 Have a special girl in your life that you have having a hard time stopping for? Want to get her something special that is from your heart? Why not give her a gift of something useful, beautiful, and personalized to let her know it was meant just for her! I have ordered many gifts from Personalizatin Mall in the past. I always love how easy it is to personalize the gifts I choose and the quality is fabulous.
There are so many gift ideas to choose from at Personalization Mall. For example if you are on the look out for a
Gift for your Girlfriend
you can check out these personalized make up bags,
couples picture frames
or my favorite these engraved mirror storage boxes. So many
great ideas
to choose from! I am sure your girlfriend will love them all!
While you are there don't forget to check out the other great Personalization Mall Gift Guides that are listed!
Want in on more Personalization Mall fun? They have a great contest going on now called "
12 Days of Christmas Riddles Contest
". Starting Dec. 1st you will find a riddle from Personalization Mall. When you solve that riddle you will be lead to different products on their web site. While you are there you will find graphics that contain letters (just like the ornament graphics pictured above). Each graphic will feature a letter or letters to help you solve the puzzle. If you submit the name of the correct personalized gift from their site as well as the letter from inside the graphic then you will be enetered to win win a daily prize. Don't forget to save all your letters you find and on the  13th day you can unscramble them for a mystery phrase. That phrase can score you the Grand Prize of a $250 Personalization Gift Card!