This is a Fashionista Event Opportunity, and is hosted by Still Blonde after all these YEARS and Modly Chic.  
Monroe and Main Holiday Event + $104 Prize Package Giveaway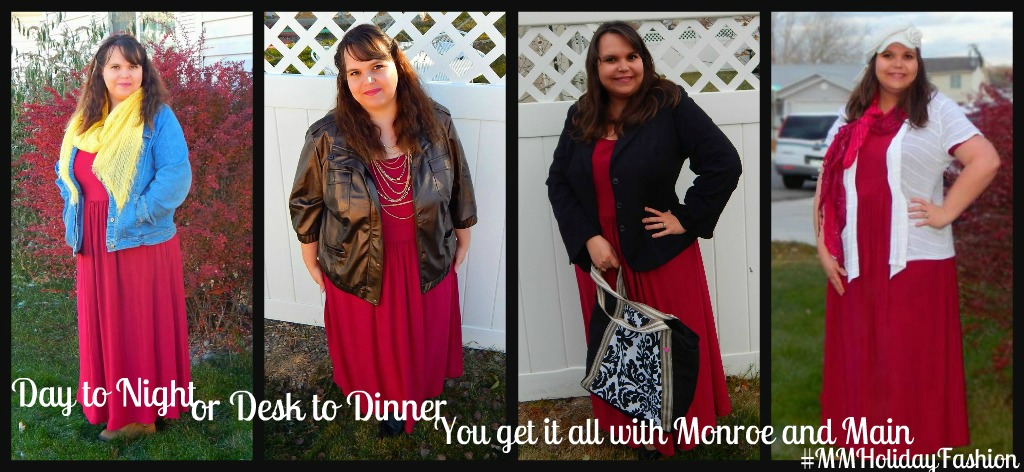 All of my close family and friends will tell you that I am an avid dress wearer. I wear dresses every single day. I find them comfortable and relaxing. Honestly wearing a dress is as comfortable to me as wearing PJ's. I also love how easily I can accessorize and completely change up the look of my dresses. Especially the new dress I received from Monroe and Main!
Recently I was sent the Perfect Fall Knit Dress in Burgundy from Monroe and Main. I love wearing reds, pinks and burgundy during the holidays! It always feels so festive! Plus I knew that this dress would fit my style perfectly as I can dress it up or dress it down with just a few accessories.
The day that the dress arrived I could not wait to try it on. It fit perfectly. The material is stretchy, comfortable and the empire waist makes this dress flattering on any size. That night I laid awake half the night thinking of all the different styles I could do with this dress. I thought of just about everything in my closet and how it would fit with this dress. The possibilities were endless! The next morning I dug everything out of my closet and got to work figuring out some of my favorite ways to wear the Perfect Fall Knit Dress. My first style that I chose was an outfit for a day out with my husband. We enjoy going out together and I wanted to look nice….but since it was not a night time date I did not want to over dress. So I decided to wear the burgundy dress with a blue jean jacket, brown Mad Dash Boots by Skechers and a yellow scarf. I love how the yellow popped on this outfit!
** Funny story about those boots. I received them once in the mail by accident. They were so cute but they did not fit. It was like seeing a gift on Christmas but not being able to touch it. I ended up donating those boots but I knew in my heart that I also had to find them and own a pair that would fit!! Thanks to Monroe and Main I found them and now own my own pair!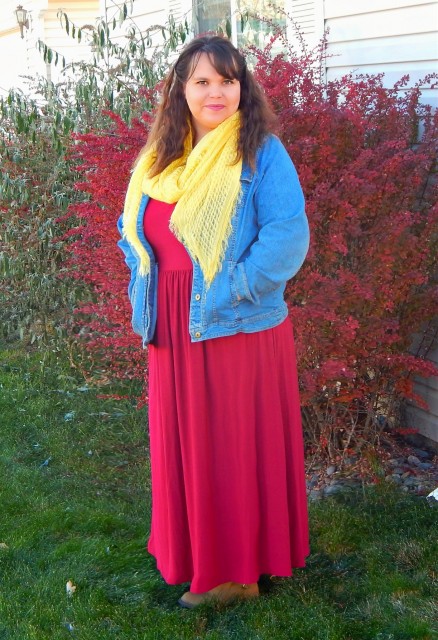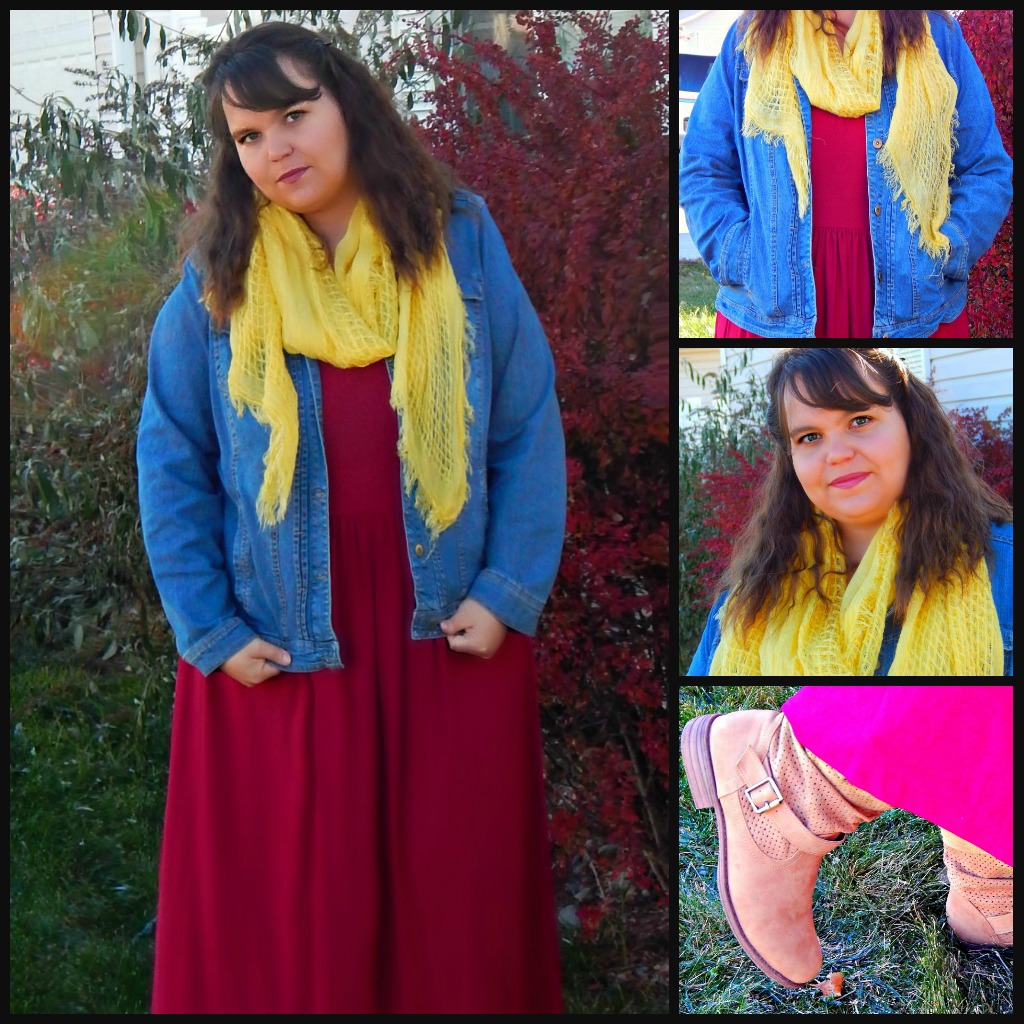 The next time that I wore this dress was for a night on the town. I don't get many nights out with my hubby but he found a nice restaurant in the city that we had never been to before. It was a great night and thanks to the Faux Leather Metallic Jacket in Bronze from Monroe and Main I was able to take my Burgundy dress from day to night in just a few seconds.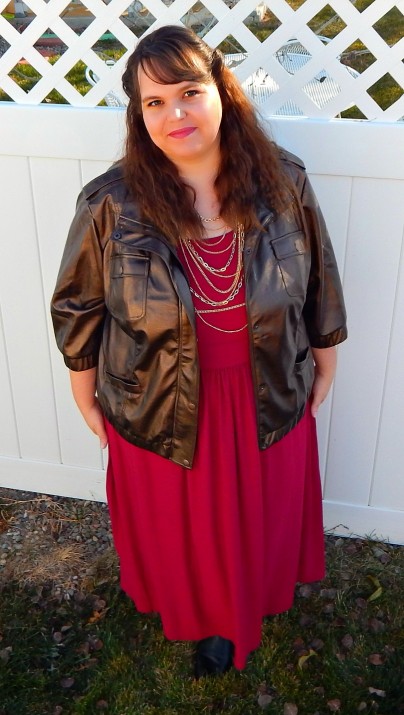 I paired the dress and jacket with a long multi-chained necklace that I got last year from Monroe and Main. I loved how well the gold and bronze fit with the burgundy color. The jacket was also the perfect item to not only change the look of this dress but to also keep me warm on the cool Colorado night. I also wore a pair of black boots to top off this night time look.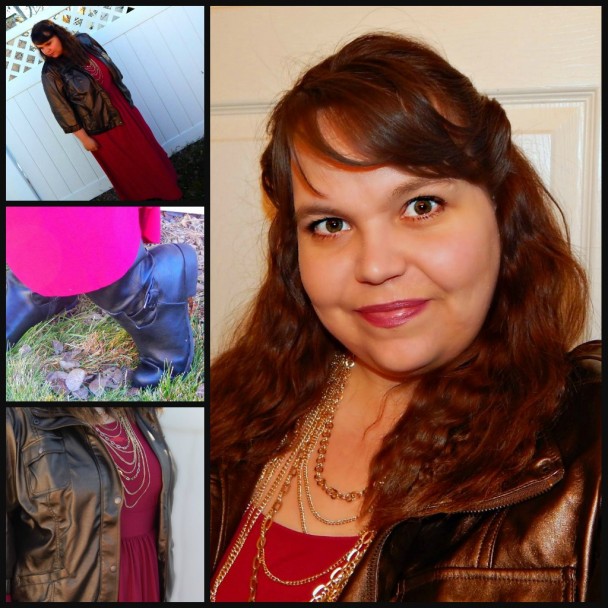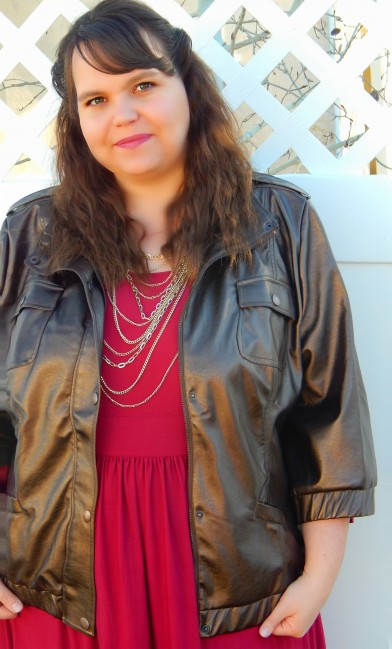 My third look that I settled on with this dress was a look for work. I have lots of meetings that I attend and I always want to look the part….but stay comfortable at the same time. So for an office job I decided to pair the burgundy dress with a black blazer, black necklace and a Toile Tote from Monroe and Main. I love the black with the burgundy. It was professional and the colors really go well together. To keep the professional look I also decided to go with a pair of black heels instead of my boots.
My fourth and last look was for a day out with the girls. We all got together for a day out shopping. It was a little chilly that day so I decided to wear my white hat and a scarf. The white really popped and kept my outfit bright and care free.
I love Monroe and Main. I have ordered many, MANY items from them and I have never been disappointing. They know how to make clothing that is not only comfortable but it is also flattering on any size. They are my "go-to" company for all of my shopping needs from dresses to jewelry.
This weekend I have my first holiday party! You can bet that I will be wearing this dress! What would you pair the dress with for the party? I'm excited to hear your ideas!
Need more ideas? Monroe and Main has an awesome blog where you can learn how to dress for your body type and more!
Want to have a little Monroe and Main of your own? I am so happy to say that one lucky reader will be able to score a $104 Monroe and Main prize package!