DIY Reindeer Lollipops

As most of you know I love doing fun crafts with my daughter. With Christmas just a month away we have been focusing on fun Christmas crafts. Most recently we made these awesome Reindeer Lollipops! They were so much fun and very festive for this season. I think we will make more to pass out to the neighbors! So cute!
What You Need:
Lollipops 
candy eyes 
Red pompoms 
brown pipe cleaners 
Hot glue or double sided tape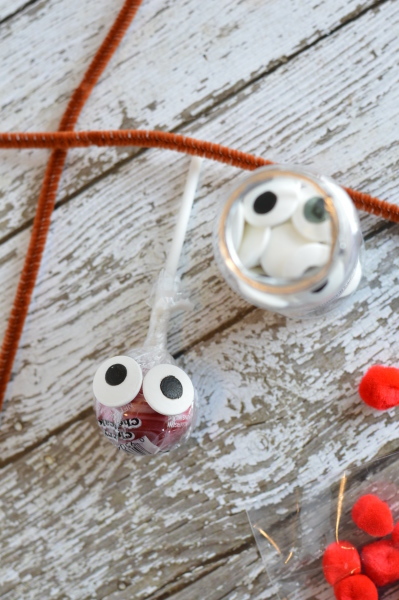 Directions:
First start by getting your eyes and gluing them to your lollipop. (You can also use double sided tape if your hot glue will melt the lollipop wrapper. 
Then get your red pompom and hot glue that where the nose should be at the bottom in between the eyes. Let that sit and settle for a moment. 
Now get your pipe cleaners and bend and twist them into antlers. I twisted one pipe cleaner around the lollipop bottom and then made two smaller ones by folding that part in half and twisting the halves. 
Then you are able to glue to tape the pipe cleaner down to stay in place if need be. There ya go! Super easy and cute craft that is edible.