** I was set a copy of this book for the purpose of this review. However my own opinion was used and not influenced in any way.
Ripley's Believe It or Not! Reality Shock! Review
My daughter is an avid reader. She especially loves books with random facts. Her little brain is like a sponge when she reads fact books and she will remember those facts forever. She loves to bring up the random facts she learns at the most inopportune time…but I am so proud of her for her thirst for knowledge and I am amazed at her ability to remember every. single. thing. that she reads!
Recently I was sent a copy of Ripley's Believe It or Not Reality Shock for the purpose of this review. I knew that this book would be a hit with my daughter. This book is filled with fun, weird, and educational random facts about this world. To be honest this book has not left my daughters side for the past two weeks. She loves everything about this book from the animal facts to the tattooed eyes.
The Ripley's Believe It or Not Reality Shock is 245 pages of crazy oddities that will have your child oohing and awing. Contents in this book include Believe It, World, Animals, Sports, Body, Pop Culture, Transport, Feats, Art, Food & Beyond Belief.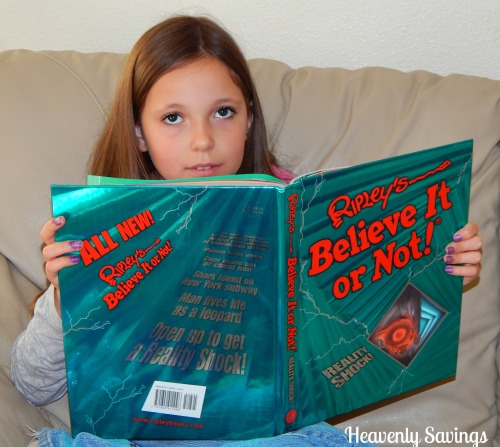 Ripley's Believe It or Not Reality Shock will make the perfect gift for anyone this holiday season. I know that my daughter would be super ecstatic to find this under the tree and I know she is not alone in those feelings. Last year when she was in school I would volunteer to read to her class on Friday's. I always brought in a Ripley's book and the kids would go crazy over it! They loved hearing about the explainable facts that were contained in the book! Isn't education fun?