I received a sample of Nature Made Children's Vitamins for the purpose of this review. This post was made possible by Mom Spark Media. Thoughts are my own.
Put Your Kids Health First With Nature Made!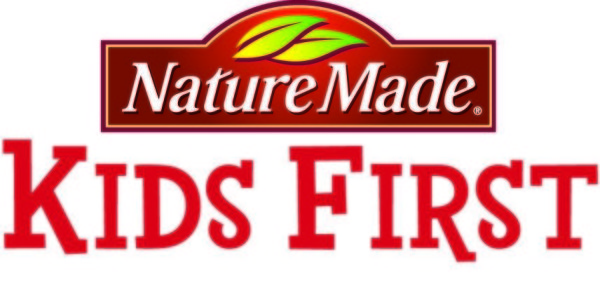 If you are an avid reader of my blog then you know that this year I have committed to taking healthier steps in my life. This not only includes focusing on my health but also the health of those in my family.  This includes making sure that we are all getting the vitamins and minerals that we need to stay healthy.
Recently I visited a local health food store and started talking to one of the employee's about vitamins for my daughter. The first brand that the employee picked up was the Nature Made vitamins. She told me that it was her "go to" brand for her children because Nature Made offered everything she would need to stay healthy. We of course also discussed how cold it is getting here in Colorado and how all of the kiddo's seem to be getting sick….except for ours. Fingers crossed I can keep it that way! I know that with Nature Made KIDS FIRST vitamins my daughter will have a head start on building up her immunity from the winter colds going around.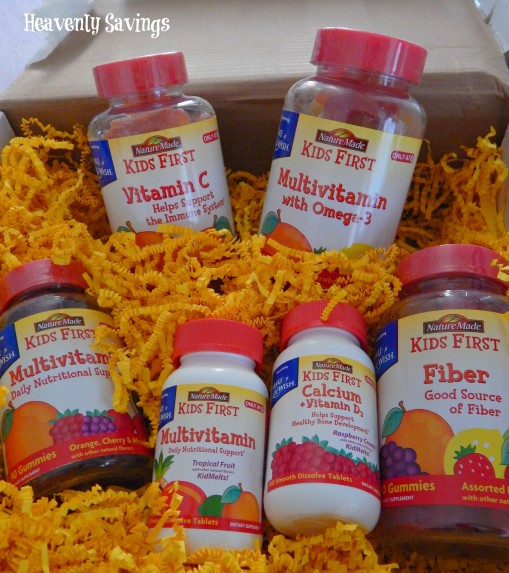 KIDS FIRST is a line of vitamins made by Nature Made. They are vitamins, minerals and supplements that are designed for your children ages 4-18. These vitamins will not only help with their health right now but can be a step in the right direction of teaching them healthy habits!
My daughter loves the KIDS FIRST vitamins because they don't taste like other vitamins. These are ones I can actually get her to take every day! They are made with tasty flavors and the dissolving tablets can quickly be taken without water or there are even gummies you can choose instead!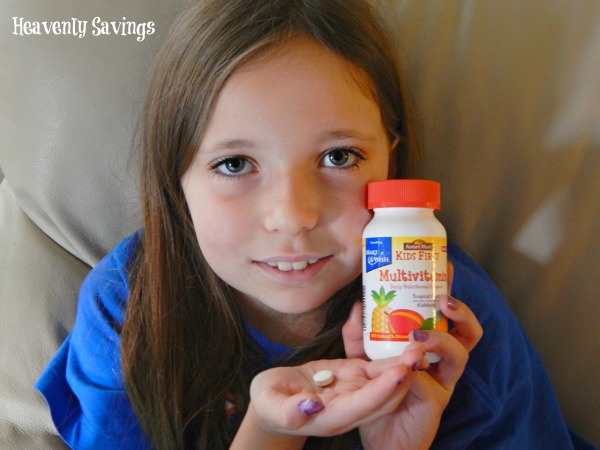 Nature Made KIDS FIRST KidMelts –  These vitamins can help fill any key nutrient gaps from a child's everyday diet.† KIDS FIRST KidsMelts can be purchased two great-tasting products: Multivitamin and Calcium + Vitamin D! Plus the KIDS FIRST Multivitamin KidMelts provide 12 essential nutrients for your child's daily nutritional support, including vitamins A, C, D, E, and all 8 B vitamins: thiamin, riboflavin, niacin, pantothenic acid, vitamin B, biotin, folic acid, and vitamin B12
KIDS FIRST Calcium + D – The Calcium supplements are another choice you can make for your kiddo! If these are what you are looking for then you also might want to know that the KIDS FIRST Calcium +D by Nature Made provide calcium and vitamin D3 in a great- tasting, fast-melting tablet to help support healthy bone development. Plus the colors are made from Natural Sources, there are no artificial flavors, no preservatives, no yeast, no sugar and no calories! Sounds great to me!
If melts are not for you then you can also look into the KIDS FIRST Nature Made gummy vitamins!
KIDS FIRST Fiber – This is a great source of your kids daily fiber! These gummies come in an assortment of flavors. Plus like the Calcium ( and all other KIDS FIRST products) there is no junk like artificial colors or sweeteners!
KIDS FIRST Vitamin C – I know that this will be my daughters best friend if that awful soar throat starts this winter! Vitamin C is a vitamin that I ALWAYS have on hand because it helps get those throats pain free quickly! I also got these in gummies which my daughter loves!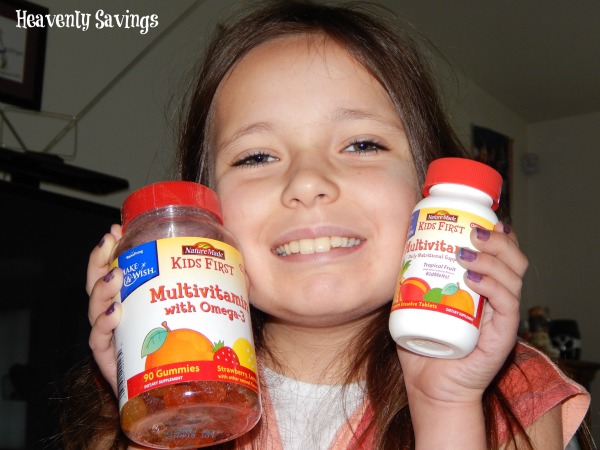 Want to learn more about Nature Made KIDS FIRST vitamins? Visit naturemade.com/kidsfirst for more Information.
Another benefit to purchasing Nature Made KIDS FIRST is your donations to Make-A-Wish® . Each time you purchase KIDS FIRST Nature Made vitamins you will be helping out Make-A-Wish with a minimum guarantee of $100,000. Visit wish.org to learn more about Make-A-Wish. To find out how Nature Made KIDS FIRST products support Make-A-Wish, visit www.naturemade.com/kidsfirst.
†These statements have not been evaluated by the Food and Drug Administration. This product is not intended to diagnose, treat, cure or prevent any disease.
I received a sample of Nature Made Children's Vitamins for the purpose of this review. This post was made possible by Mom Spark Media. Thoughts are my own.