50's Vintage Style Tea Party Dress
** I was sent a 50's Vintage Style Tea Party Dress for the purpose of this review. However, my own opinion was used and not influenced in any way.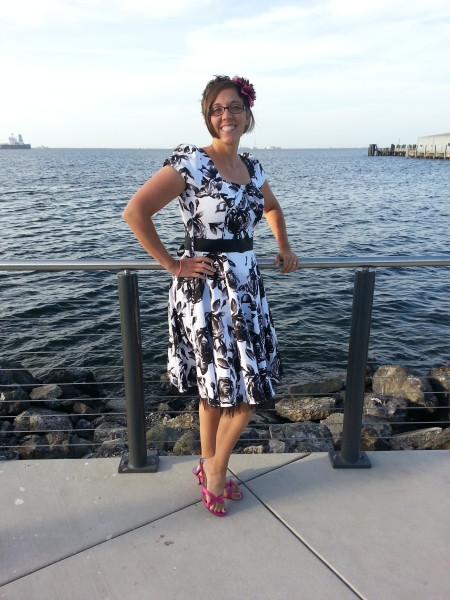 My Thoughts On The 50's Vintage Style Tea Party Dress From Hip Hop 50's Shop
I have to say I rarely wear dresses, it's not that I don't love them, because I do. But mainly on other women, just not myself. I have a hard time finding the right style to fit my body type and be comfortable enough to keep me from self doubting myself the entire time it's on. It is what it is but when I received this adorable 50's Vintage Style Tea Party Dress I had a feeling it might just be a match made in heavenly bliss.
First let me start off by saying this dress was designed with a woman's body in mind. The straight cut across with the accent bow was a great touch. It wasn't too goddy or frilly by any means and with the hint of black netting on the bottom it became my ultimate favorite dress!
But wait, there's more, the coolest thing about this dress is the SIDE zipper which I need to tell you that I at first did not see it and was feeling a little skeptical about getting into this dress. I am a size 12 in dresses so I ordered an XL and when I was getting a little anxiety about getting into the dress I saw the hidden side zipper and it was as if a light shone right down on me. I absolutely love that I can zip and un zip my own dress – I mean so many dresses have the zipper in the back and it's not exactly very easy to zip those up without asking for help (which I don't do) so I was now feeling very confident about this dress!
After I slipped it on I LOVED the length, it was perfect and I decided to add a splash of color and go out on a limb and throw some pink low heels on and a black and pink headband to tie it all together. You can accent this dress is so many ways which I love!
The material of the dress is comfortable and I felt great in it so I decided to make my husband take me out on a date! I even got several compliments on the dress which of course makes any girl feel great.
Tammy