Dress like a Veggie Event At Family Christian Stores!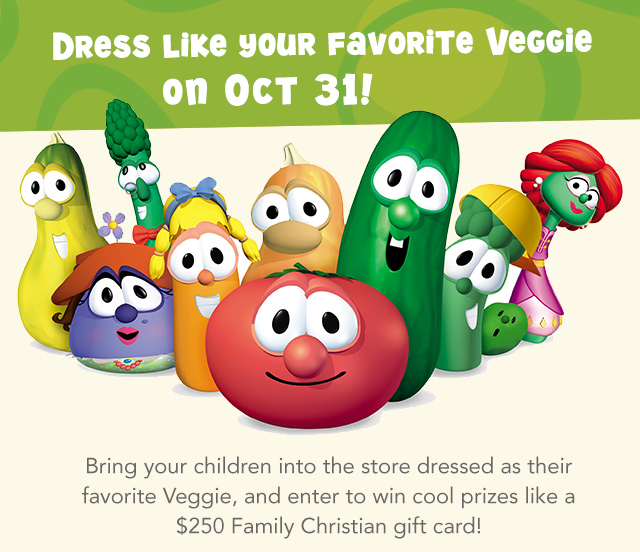 It is no secret that I love VeggieTales. If you are an avid reader of my blog then you know that I have been posting about VeggieTales for the past 5 years! Although my daughter is now 9 we still love to cuddle on the couch and watch VeggieTales. No matter your age the moral of each story is still something we all need to hear and try to do in our own lives.
That is why I am pleased to announce that on October 31st ALL Family Christian Stores will celebrate Dress Like a Veggie Day. On October 31st you are encouraged to bring your children dressed like their favorite VeggieTales character. You can even take a photo of them and share it on Twitter and/or Instagram! Want ideas on how to dress your child like a veggie? Check out this great pinterest board of ideas:  http://www.pinterest.com/familychristian/dress-like-the-veggietales/
All kids who stop by our stores will receive small goodies (non-edible so no allergy fears).
 BTW this is also a contest!!! Yippee!
How to Enter:
To enter you must have at least 1 child dressed up like a veggie (it does not HAVE to be a VeggieTales veggie…just a veggie). As their parents you must upload and share one photo of the child(ren) in their local store dressed like a veggie. They must tag @Familychristian in their post and use the hashtag #FCVeggies
The grand prize winner will receive a $250 gift card for Family Christian. Five runner ups will each receive a $50 appreciation certificate.
I can't wait to see all your creative VeggieTales costume ideas! Please don't forget to share them with me!!