** I was sent this DVD for the purpose of this review. However, my own opinion was used and not influenced in any way.
My Little Pony – Classic TV Collection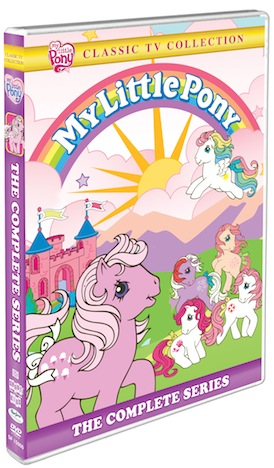 My Little Pony was one of my all time favorite cartoons when I was a child. If you have seen the cartoon recently you know that a lot has changed since they first were introduced in 1986. That is why I am so happy to see My Little Pony – Classic TV Collection on DVD! You will love watching your favorite beloved characters on this 12 hour DVD!
I was recently sent a copy of My Little Pony – Classic TV Collection for the purpose of this review. I could not wait to show my daughter the ponies that I grew up with! When she was born my parents gave me all my old toys and in those toys were some of my favorite ponies. My daughter has played with these ponies for years and now she is able to see them in action! I love it! I am so happy that Shout Factory decided to release all these great episodes on one DVD Collection!
On The Back
Go Back To Where The Fun Began!
You're invited to return to Ponyland, the home of all your favorite classic Little Ponies, including the Earth Ponies, Unicorns, Pegasus Ponies, Flutter Ponies, Sea Ponies, Baby Ponies, their human friends Megan, Danny and Molly and, of course, their dragon friend, Spike! Together, they live a life of games, songs and harmony with allies like the Bushwoolies and Furbobs. But, occasionally, there are problems in Ponyland and the Little Ponies of Paradise Estate must face evil witches, goblins, Stone Backs, Grundles and more! Now you can come join in the fun and adventure with My Little Pony:The Complete Series!
Includes: ALL 65 Episodes of My Little Pony!