Mom's Night Out Review & Giveaway!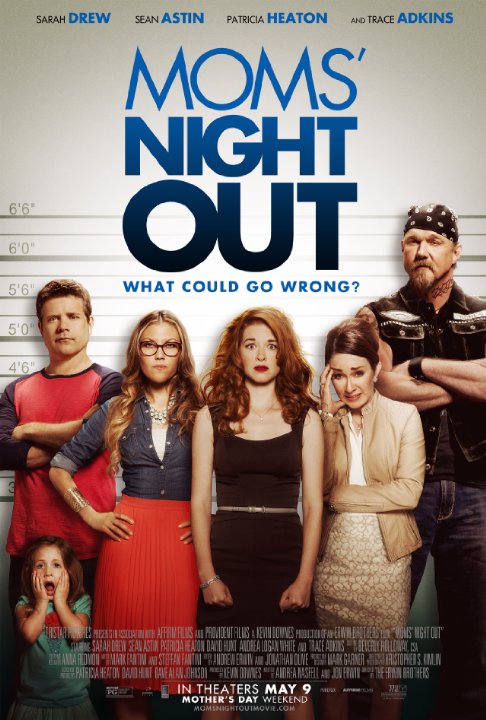 If you are a Mother you understand the importance of a Mom's Night Out. It does not matter if you have one kid or ten! It is hard being a Mom. Kids are sweet and adorable, but they are also messy, filthy  and disgusting!
I spend my day as a stay at home Mom. I also watch two new born babies throughout the day and have a 6 year old to take to school. This of course is on top of home schooling my daughter. My days are FULL! No matter how much I love these beautiful children I also love "me time". Unfortunately  now that I am home schooling my "me time" is less and less. I am with children 24-7!
Recently I was sent a copy of Mom' Night Out starring Sarah Drew, Sean Astin, Patricia Heaton and Trace Adkins. I was excited to finally have a movie that I could watch without all the inappropriate junk. No need to worry about foul language, nudity and sex during this family friendly film.
I loved this story of these Mom's who are stressed to the max. They are loving moms and wives but they need a break! You will laugh hysterically as you see what not only happens to these Moms but also what happens to their children who are left alone with their husbands! This is a night they are not soon going to forget! Will the mom's get the quiet dinner that they are looking for? Will the Dad's have the kids 100% cared for while the Mom's are away? I mean it's only three hours right? What could happen?
On The Back
All Allyson and her friends want is a peaceful, grown-up evening of dinner and conversation … a long-needed mom's night out. But in order to enjoy high heels, adult conversation and food not served in a paper bag, they need their husband to watch the kids for three hours – what could go wrong?
How would you like to win a copy of Mom' Night Out? I am excited to say that one lucky US reader will be able to do just that! Good Luck!