** I was provided with a review copy of this title for the purpose of this review. However, my own opinion was used and not influenced in any way.
Worlds Together Cuba DVD Review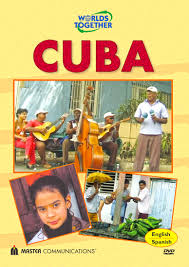 I love home schooling. It is so much fun to come up with a curriculum to teach my daughter. Recently we have been focusing on other countries. I want her to know what the world around her is like and watching DVD's like Cuba is a great way for her to see what other places are like.
Worlds Together Cuba will take you on a tour of Cuba. The DVD will show you the culture and life of the people of Cuba. From their sugar plantations to the museums and churches. We learned about the free education and about how they offer free day care for children ages seven and under.
This Worlds Together Cuba DVD is the next best thing to actually going to Cuba. Now lets face it…I would love to take my daughter to all these countries so that she could see them first hand. But that is just not possible! Luckily with the Worlds Together DVD we can feel like we are right there with the wonderful people of Cuba!
This is not my first Worlds Together DVD that I have seen. I have introduced my daughter to other DVD's such as West Africa, East Africa, Ethiopia and Tibet. Plus on Sept. 9th Worlds Together will also release Ecuador and Columbia!
Each Worlds Together DVD is 25 minutes in length and retails for around $29.95! Each DVD will teach you about the history, culture, sports and even cuisine of each country! It's really a great home schooling tool!
On The Back
Worlds Together series takes you to countries that are fascinating yet not on the top of the list of usual travel destinations. This documentary introduces their culture, history, food, geography and people.
Cuba provides a ground level look at Cuba, The Pearl of the Antilles. The documentary introduces the island by delving into its topography, history, health care, religious practices, cuisine and education. The Polyneasia-like eastern city of Baracoa and the nation's capital, Havana are explored. The film concludes with an extensive look at the island's unique musical performers and stylistic trends.