Breakfast Crepes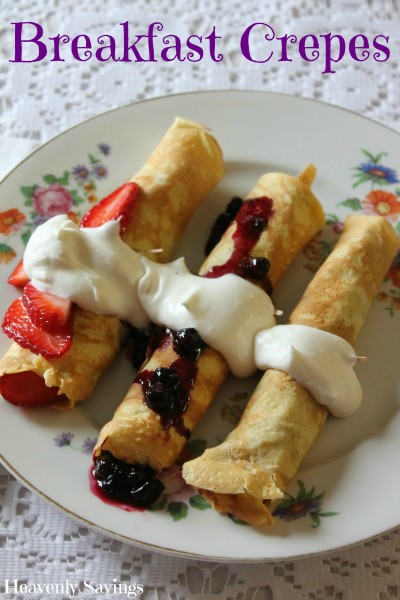 These sweet little breakfast crepes (called French Pancakes by some people and Swedish Pancakes by others) are light and flavorful, with delicate, crispy brown lacy edges. Filled with cinnamon sugar or berries and topped with a spoonful of whipped cream, they make a wonderful company breakfast or weekend tradition.
They are surprisingly simple to make, but it is much easier to keep plates filled if two people are working together. Children enjoy being enlisted to butter, fill, and roll the crepes.
A non-stick pan makes the crepes easy to flip. You may even want to get creative and flip them in the air! Larger pans make bigger crepes–which means less time cooking. Hold each crepe together with a toothpick, if desired, but make sure it shows clearly to avoid unpleasant surprises.
Use your imagination with the filling; almost any fruit or jam goes well with crepes. If you have extra batter, cook the crepes and wrap them well in plastic. They can be refrigerated for several days.
Ingredients:
4 large eggs
1 cup water
1 cup milk
1 teaspoon vanilla
1 1/2 cups flour
1/2 cup powdered sugar
1 teaspoon baking powder
1/2 teaspoon salt
Coconut oil or shortening for cooking
Butter, cinnamon sugar, jam, or fresh fruit
Directions:
In a medium bowl, beat the eggs, water, milk, and vanilla until frothy.
Sift together the flour, powdered sugar, baking powder, and salt. Put the sifted ingredients back into the sifter and sift over the egg mixture in three additions, whisking or beating each time. Mix until combined. (Small lumps are fine.)
Heat a small skillet with sloped sides over medium-high heat. Grease lightly with coconut oil or shortening. Don't use butter – it browns too quickly.
Ladle or pour a small amount of batter into the pan. Lift the pan from the burner, tilting and rolling the batter to cover the bottom of the pan. If you have too much batter, pour the excess back into the bowl and use less next time. After a trial crepe or two you will be able to determine the right amount of batter to use. Keep them thin!
Watch the crepe carefully. When you see it begin to brown on the edges, slide a spatula under it (loosening the edges if necessary) and flip it over.
Cook briefly on the other side and then flip onto a plate or work surface, bottom side up.
Butter the crepe and sprinkle with cinnamon sugar or fill with fruit. Roll.
Repeat!
To make blueberry sauce, combine 1 cup frozen blueberries and 1/4 cup sugar in a small pan on medium low heat. Bring to a simmer and cook for 2 minutes. Combine 1 tablespoon water and 1 teaspoon cornstarch and add to blueberry mixture. Stir and cook for an additional minute. Set aside to cool.