Fagor Duo 10 Piece Pressure Canning Set Review
I have been canning food since I was a child. As soon as I was old enough to walk I was in the kitchen peeling apples, pitting cherries and removing the skins from tomatoes. I remember canning with my Mom every single year of my life. This is something that I have continued with my family. Now that I am the housewife I am always trying to can my own food to help feed my family. My daughter and I love going to the local orchards and picking cherries, peaches, apricots, plums and more. Then we get to come home and figure out what amazing canning recipe we are going to make like salsa, mustard, plumcot BBQ sauce and honey peaches!
Recently I was sent a Fagor Duo 10 Piece Pressure Canning Set for the purpose of this review. I could not wait to get started and finally be able to can meat and veggies. I know that this canner will be used for years and years to come!
The first night that the Fagor Duo Pressure Cooker arrived I decided to make some Cornish Game Hens. I wanted to see just how fast the pressure cooker would make these little hens. I quickly found a recipe in the book that came with the pressure cooker and got to work!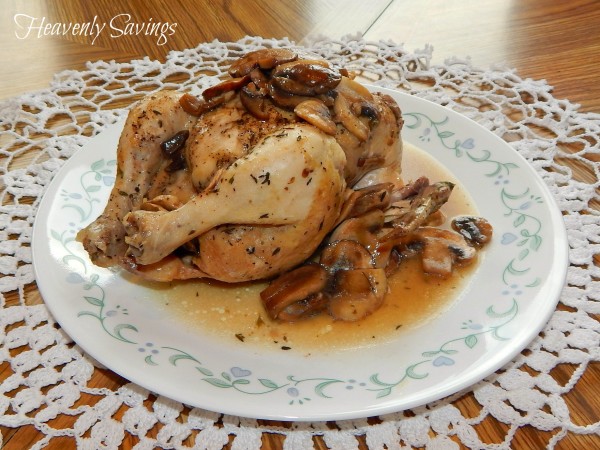 I was so excited to make these Cornish Game Hens. It had been years since I made them and I randomly had a few of them given to me just a few days before the pressure cooker arrived. The recipe also called for mushrooms which I was knew would make this recipe perfect.
I am not going to list the recipe here since it came in the recipe book and I know that as soon as you purchase the Fagor Duo 10 Piece Pressure Canning Set you will also have the recipe. But, I will say that it was delicious and start to finish on these Cornish Game Hens was less then 30 minutes. Can you believe it???
Listen to that steam…..that is how I know it built up enough pressure to can/cook! Can't wait to see what's inside!
The Fagor Duo 10 Piece Pressure Canning Set comes with everything you will need to can your favorite foods. With the Pressure Cooker you will get a canning rack, wide mouth funnel, ladle, jar lifter, jar wrench, bubble freer and a magnetic lid lifter. Plus it comes with 2 recipe books and a user's manual.
The Fagor Duo Pressure Cooker can hold up to four 1 quart jars and can also be used to cook your favorite meals in minutes. There are two pressure settings on the Fagor Duo Pressure Canning set. A low (8psi) and high (15 psi) setting can be found on the top of the lid. There is also a a safety lock on the handle that will prevent the lid from coming off until all the pressure has been released.
Be watching for lots of recipes to come of my great canning adventures using this amazing Fagor Duo Pressure Canning Set!