Beatrix Girls Pop Star Dolls Review & Giveaway
Ends 7/09/14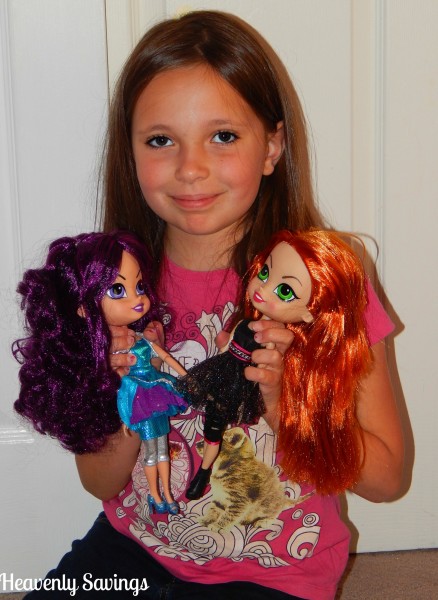 My daughter has just recently started to play with dolls. It is fun to hear her playing and letting her imagination run wild. Recently I was sent a couple of Beatrix Girls Pop Star Dolls for the purpose of this review. I was excited to show my daughter and her friends so that I could see the joy on their faces. Plus the Beatrix Girls are more then just Pop Star Dolls. They even have a CD!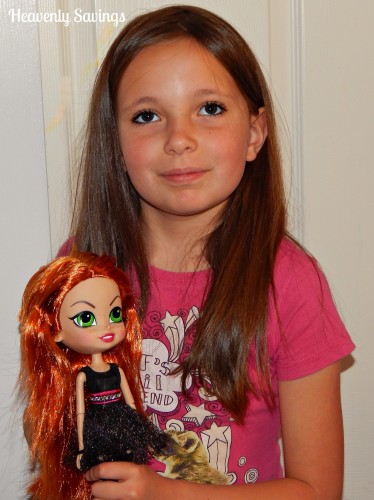 Beatrix Pop Star Lark-
The first doll that I pulled out of the box was Lark. She is a beautiful doll with red hair and green eyes. Lark plays the bass and is a spunky girl.
About Lark from Company:
The Beatrix Girls – Lark
Those low notes you hear on a tune by The Beatrix Girls – that's me. I like bass because it shakes the ground and everybody feels it. When I'm not thumping the strings I go extreme – sports I mean. Skateboarding, surfing, snowboarding. You name it, I'm on it. But my first love is the Beatrix Girls. Making music with your best buddies is the bomb!
My look
Ripped jeans, combat boots, sneakers with everything. I keep away from pink but my fiery red hair gives me plenty of color.
My favorite phrase
"Come on, lighten up!"
My favorite things
Corned Beef Sandwiches, Boston Baked Beans, Potato Pancakes and Boston Red Sox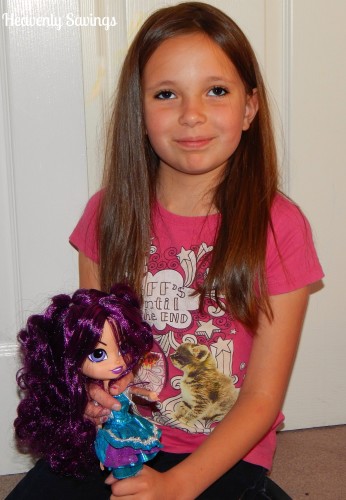 Beatrix Pop Star Brayden –
Brayden is stunning. She has the most beautiful shade of purple hair and lavender eyes. I love how full her hair is with all of it's curls! She is simply beautiful!
About Brayden from the company :
When you hear lead guitar wailing above The Beatrix Girls vocals, that's me – Brayden I'm the lead. And I'm the leader, writing most of the band's songs. I write about music and fun and the world we all live in. Stuff that matters to me. Like my BFFs, the Beatrix Girls. Being a pop-star with your best friends is the super-coolest thing in the world!
My look
Cool, cool mini-skirts. Sky-high heels. Lots of jewelry. Prints and patterns. Metallics and leather for a look that's always sassy.
My favorite phrase
"Are we beat, or are we Beatrix?"
My favorite things
California Sushi rolls, Latte-flavored candies, Heart-shaped notebooks (for writing songs), Kooky bright-colored sunglasses in the shape of stars, hearts, squares and triangles.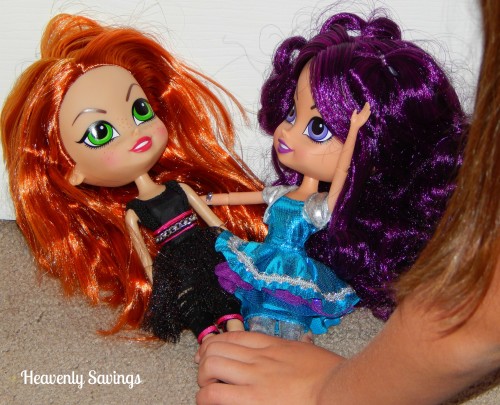 All Four  Beatrix Girls Pop Star Dolls are very flexible and you can bend their arms and legs while you play. Plus they can do the splits as they are jamming in their band! Each doll also comes with a V.I.P pass to help you become a Trixie! The pass will allow you to get free downloads and enter fun contests on their website!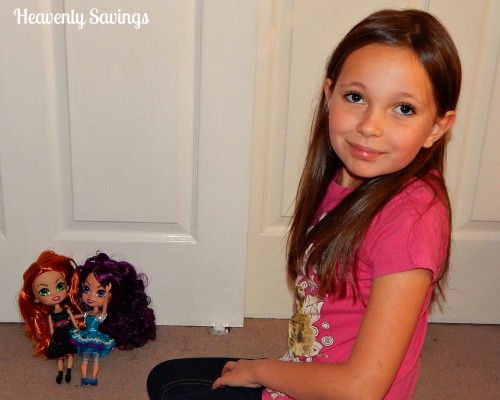 How would you like to win a Beatrix Girls Pop Star Doll of your choice? I am excited to say that one lucky US reader will be able to do just that! Good Luck!