** I received the Enchanted Princess Costume for the purpose of this review. However, my own opinion was used and not influenced in any way.
Girl's Enchanted Princess Costume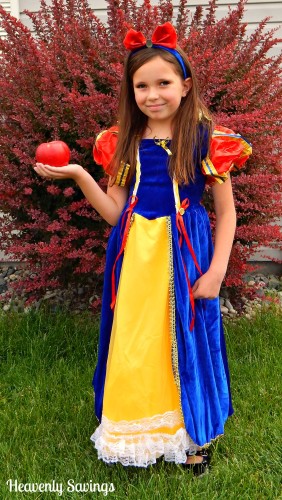 My daughter is obsessed with dressing up. Each and every day she picks out a costume to dress in and more often then not it is a stunning princess dress. Thanks to CostumeSupercenter.com I was recently able to review a stunning Enchanted Princess Costume. Now I must admit that I used to be skeptical about purchasing my daughters dress up clothing from an online costume site. I never know what the quality will be like and when I spend my money I want to make sure it is on something that will last. That is why I am so happy with this amazing Enchanted Princess Costume. I did not even get the dress all the way out of the box before my daughter was begging me to put it on.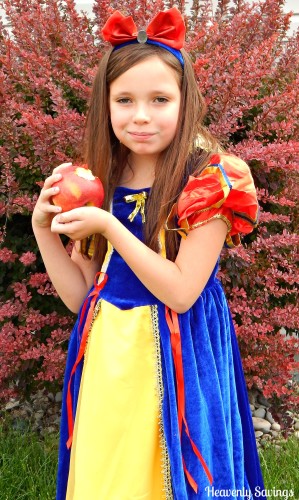 The Enchanted Princess costume fits true to size. The design is beautiful with all of its lace, beads, ribbons, sequence and more. I also love the full skirt and softness of the velveteen fabric. This has quickly became my daughters favorite dress to wear and she has now worn it for about 4 days strait as she is playing outside and dancing around the house.
The Enchanted princess costume for girls can be purchased for just $33.97 and  comes in sizes Small, Medium and Large. To make the costume even better it also includes a beautiful hair bow.
CostumeSupercenter.com has a large variety of costumes. Not only can you find Princess Costumes but also Angry Birds, Cowboys, Marvel, Sports, Fairy, Mens, Womens and more.. With CostumeSupercenter.com you will always know that you are getting a great deal and a quality outfit for you or your child.
If you are on the lookout for a costume for a birthday party, BBQ, religious play, or just something for the kids to play in then I recommend you check into CostumeSupercenter.com! You won't be disappointed!
For more Princess fun check out this neat slideshow about Princesses Through The Years!