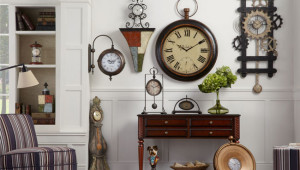 Artwork, ottomans, textiles such as an exquisite rug or a matching pillow to put the room together are just a few things that I am being inspired to incorporate in my new home.
My family just recently moved into a beautiful new home and the only problem I am having is that I have more space than what I know what to do with! We came from a very small space where we were literally using the kitchen table for every project you can think of and then taking everything off to eat on it so needless to say we couldn't fit much more into the tiny space we had lived in.
Now that I have some space I have been inspired to fill my home and these empty spaces I have with unique and charming items that personalize our home from others. For instance my husband and I keep staring at this blank space that is near the kitchen but not the dining room where our kitchen table is and then it finally dawned on us that possibly a baker's rack along with a beautiful cabinet would tie it all together!
Now that we have our hearts set on what we will fill that little space with we also have an extra bedroom that is in desperate need of some inspiration and decoration! I am thinking art work on the walls with a rug that warms the room and possibly a storage bench at the end of the guest bed to tie it all together! I am excited for all the limitless possibilities and the creative things we can fill our home with to make it our own and to add our own style and personality to!
You don't have to be in a new home to have the desire to be inspired and add something unique to your home. Sometimes just an ottoman or a beautiful piece of art work can liven up and add some character to your home! Since I am on the lookout for these great items I checked out Bombay for furnishings accessories! There are so many great items that can really help me fill all this space.
Visit Bombay today and be ready to feel inspired!
~Tammy~