HABA Silicone Kitchen Molds – Great for Little Helpers! Giveaway Ends 6/10/14!
I have lots of little helpers in my home. They love to help me clean house, take care of the babies and…COOK! Every time I tell the kids to get their aprons on they start to scream with excitement. The kitchen is their favorite place and I love teaching the kids about baking, cooking and freezing!
Recently thanks to HABA I was able to review some great kitchen items including silicone baking molds and silicone popsicle/ice molds! As soon as these products arrived the kids and I took them out of the box and got started. They could not wait for the freezer to freeze their popsicles or for the cake to finish baking!
Silicone Cake Mold Summer Flower – 
My daughter had a birthday this past month and she was hoping to make her own cake. When I seen the HABA Summer Flower silicone mold I knew that it would be the perfect treat for her special day. Plus the cake mold was very easy to use and I knew that she would be able to do it all by herself. I love how the center of the flower is removable and she was able to decorate it easily in a different color! She choose to make her summer flower pink and blue! HABA's Silicone Cake Mold Summer Flower retails for just $21.37 and can be purchased from the HABA web site!

Silicone Cupcake Mold Safari –
Another fun cake mold I received from HABA was their Safari Cupcake mold. This made the kids at my house excited since they could make and decorate their own little cakes. There is also a Princess cupcake mold! They are super easy to use and fun! They retail for just $23.74!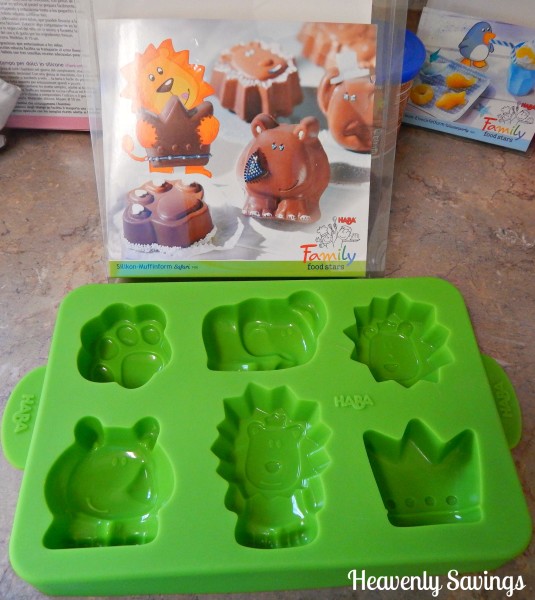 Silicone Popsicle Tray Penguins – 
Popsicles are one of the most consumed things at my house during the summer. Luckily I don't have to purchase them since I can just make them right here at home! Especially now that I have HABA's awesome penguin popsicle mold! It was the first item the kids pulled out of the box when the items arrived and they got started on making popsicles right away!
I love that I can make sure they are using healthy juices to make their favorite summer treat! The HABA penguin silicone mold retails for $17.09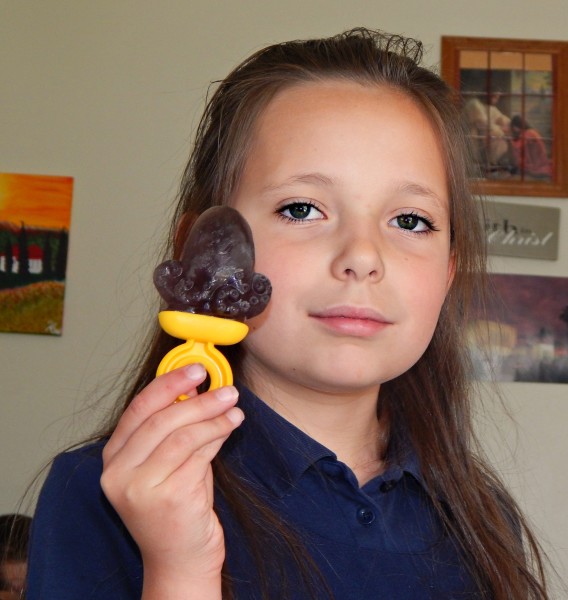 Silicone Ice Cube Tray Water Party – 
Popsicle molds are not the only frozen fun molds that HABA has to offer! They also make and sale Ice Cube Trays! I was lucky enough to receive a mold that made fun water creature ice cubes. This is the perfect addition to any of the kids favorite beverages! We made red ice cubes the first time we used this ice cube tray and they were so excited!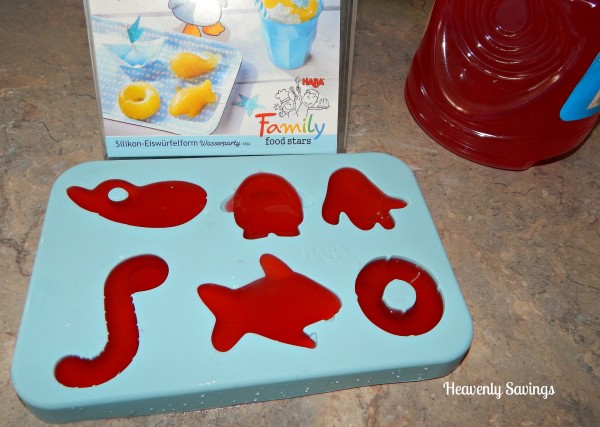 How would you like to win these fun HABA Silicone Kitchen Molds? I am so happy to say that one lucky US reader will be able to do just that! Good Luck!