Adventure Time The Suitor
My daughter talks about Adventure Time all the time. Adventure Time is a show I had never watched until recently when a copy of Adventure Time The Suitor arrived at my door for the purpose of this review.
Adventure Time The Suitor DVD will be available for purchase Mary 6, 2014 with a pre-order date of April 1,2014. The Adventure Time The Suitor DVD has 16 full-length episodes with almost 3 hours of cartoon fun.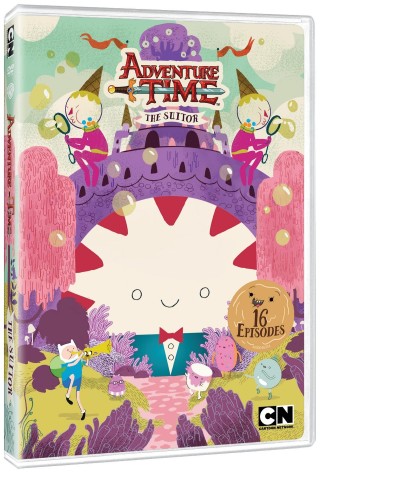 I was able to watch Adventure Time The Suitor with my daughter and her friends. I will admit that I did not get it. It was a cute cartoon but it was not as entertaining to me as it was the children. They loved it! I guess I will just have to face the fact that there is a generation gap with this cartoon….but I can live with that :). Adventure Time is rated PG and is a great cartoon for the kids!
On The Back
Welcome to volume 6! Peppermint Butler is here to serve you and all of your Adventure Time needs. At a moment's notice you are afforded the luxury of viewing 16 candy-sweet episodes. So sit back and relax; Pep-But will take it from here.
Episodes:
The Suitor
James Baxter The Horse
SHH!
Another Five More Short Graybles
Wizards Only Fools
Be More
Sky Witch
The Vault
Red Starved
Hug Wolf
Beyond This Earthly Realm
King Worm
Morituri Te Salutamus
Heat Signature
Blood Under The Skin
Henchman
Special Episode:
Little Did You Know
Check out more Adventure Time episodes on Cartoon Network!