Whoosh! A Watery World of Wonderful Creatures
By Marilyn Baillie
Thanks to OwlKids I was recently sent a copy of Whoosh! A watery world of wonderful creatures for the purpose of this review. In Whoosh! you will be introduced to many animals who love the water. You will read about the fun loving dolphin, the hermit crab, the water skipping Water Strider and so many more. Plus when you read about these water loving creatures you will also be able to see beautiful illustrations of children who are pretending to be these animals. I love the creativity in each of these drawings.
In the back of the book you will get to take a second glance at all of the animals that were featured in Whoosh! With fun facts that your child will love to read. There is even an imaginative story that you can participate with to help you get moving and pretending!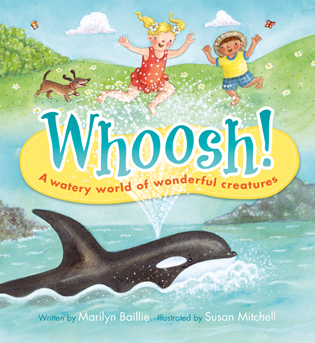 About the Book
Open these pages and SWIM, SWOOSH, and SPLASH along with some watery creatures to find out which amazing animals love water as mush as you.
Is it the blue heron fishing for its super? Is it the water strider skimming across the pond? Or maybe it's the otter pup learning how to swim?
Whether it's one of these, or one of the many other aquatic animals featured in this fun, interactive book, Whoosh! is sure to prompt you to get up and move: Scrunch down and scuttle sideways like a hermit crab! Waddle to and fro like an Emperor Penguin! Splash in your bath like a baby elephant! Animals love to frolic and play- just like you.