Sausage and Pepper Cheese Burger
We have been in the 70's this week here in Colorado. I love this weather because as the days warm up we are able to grill more and more often. Recently Ragú sent me a couple product coupons for their Ragú® Old World Style® Traditional Sauce and with those coupons I was trying to come up with a great recipe that would allow me to grill. That is why I came up with this Sausage and Peppers Cheese Burger!
I have always loved Sweet Italian Sausage with grilled peppers and onions but I had never thought to use sausage as a patty on a burger. I ran this idea past my husband and he was just as thrilled as I was. We could not wait to see how well the sausage would grill up and how these Sausage and Pepper Cheese Burgers would taste.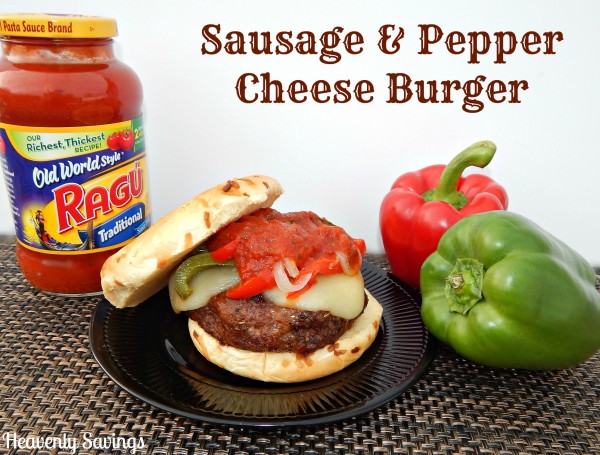 Ingredients:
2 lbs Sweet Italian Sausage
3 Bell Peppers sliced
1 large onion sliced
Ragú Old World Style Traditional Sauce
Hamburger Buns
Sliced Mozzarella Cheese
2 Tbs butter
salt & pepper to taste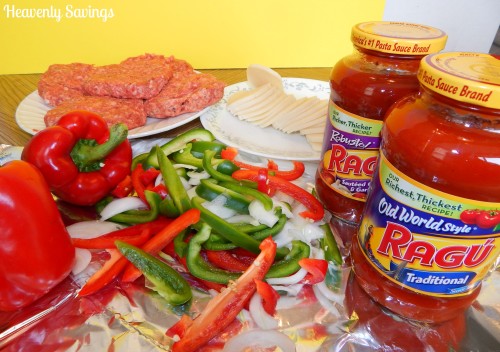 Directions:
1. Make sausage patties – you can make them as big or little as you like. We did them kinda big because we thought they would shrink. FYI they do not shrink when you grill them 🙂
2. Place sliced peppers and onions on a square of tin foil. Add butter and season with salt & pepper. Wrap tin foil tightly to help keep the juices in the foil while you grill.
3. Grill sausage patties and tin foil covered sausage and peppers for 10-15 minutes or until sausage temperature is 160 degrees Fahrenheit. Top sausage patties with sliced mozzarella and melt cheese over patties (about 3-5 minutes).
4. As sausage and peppers are cooking you will also want to warm up the Ragú in a saucepan on low temperature for 5 minutes. Note: You just want the Ragú to be warm! Do not heat to boil as it will melt the cheese and make a sloppy mess.
To assemble place cooked sausage patty on hamburger bun and top with grilled pepper and onion mix and Ragú.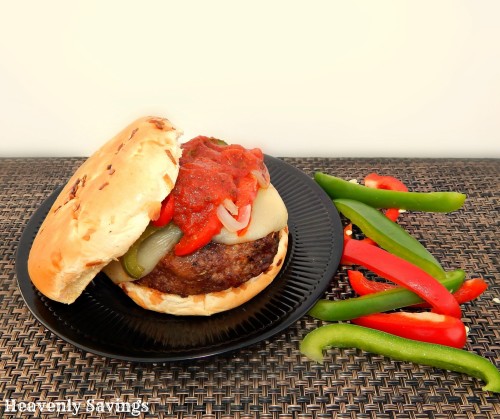 These Sausage and Pepper Cheese Burgers were amazing. They were very easy to make and the flavors as a burger were mind blowing! Also don't forget that  each jar of Ragú® Old World Style® Traditional Sauce is made with 11 juicy tomatoes making it its  richest, thickest recipe.
Also don't forget to visit Facebook.com/RaguSauce for more easy and delicious Authentic Italian recipe ideas. And while you are there you can also enter the Ragú Sweepstakes for a chance to win great Authentic Italian themed prizes, including a grand prize trip to Italy for a family of four at www.RaguSweeps.com!