DIY Knitted Minion Cell Phone Cover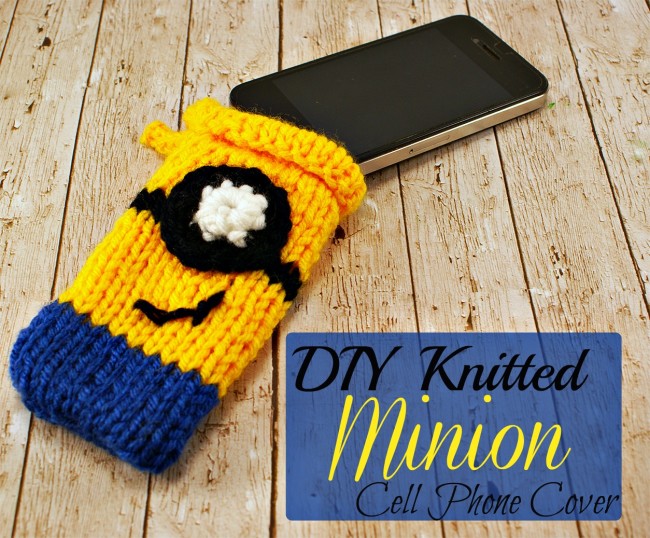 It is no secret that Minions are taking over the world. 🙂 I for one am in love with these cute little yellow creatures that can be found in the hit Despicable Me! With the Minions taking over I thought it would be fun to share my love of knitting with you all…with this adorable Knitted Minion Cell Phone Cover.
The directions below are for a cell phone cover to fit an iPhone…or you can follow the directions in bold for the Galaxy 3S directions!
***NOTE: This is a form fitting cozy. If you want your cozy to be a little more loose, you can Cast on 2 extra stitches. This piece is also worked from top to bottom.***
Materials Needed:
Size 8 (5.0mm) Knitting Needles
Size 3 Double Pointed Needles (just 2 are needed for icord)
Size G Crochet Hook
Tapestry Needle
Colonial Blue – Lion Brand Yarn (medium weight)
Sunny Day – Loops & Thread Yarn (medium weight)
Black – Lion Brand Yarn (medium weight)
Abbreviations:
CO = Cast On
K = Knit
P= Purl
BO = Bind Off
REP = Repeat
STS = Stitches
Instructions:
CO 22 sts with Sunny Day Color (CO 28 sts)
Row 1: K
Row 2: P
Row 3: K
Row 4: P
Row 5: K
*Pattern Change!*
Row 6: K
Row 7: P
(REP Rows 6 & 7 Three more times) (REP Rows 6 & 7 four more times)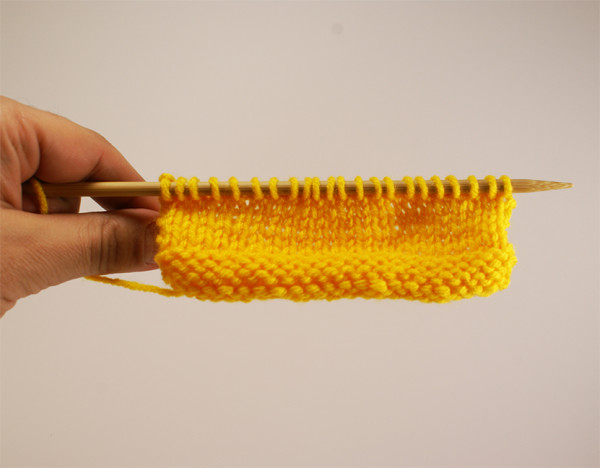 **Change Color to Black**
Row 14: K (Row 16: K)
Row 15: P (Row 17: P)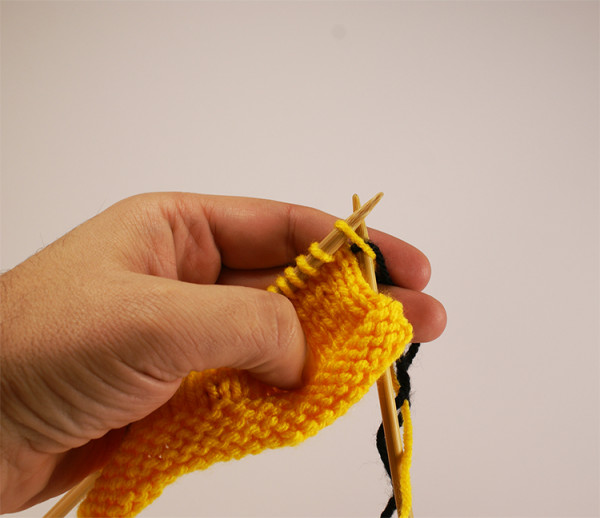 **Change Color back to Sunny Day**
Row 16: K (Row 18: K)
Row 17: P (Row 19: P)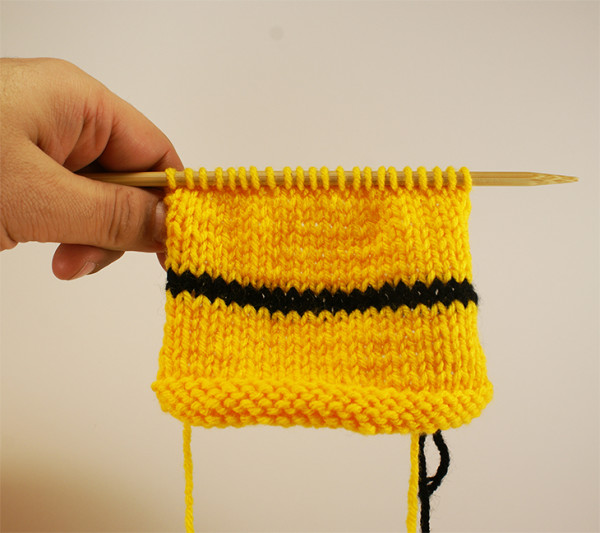 (REP rows 16 & 17 Four more times) (REP rows 18 & 19 Five more times)
**Change Color to Colonial Blue**
Row 26: K (Row 30: K)
Row 27: P (Row 31: P)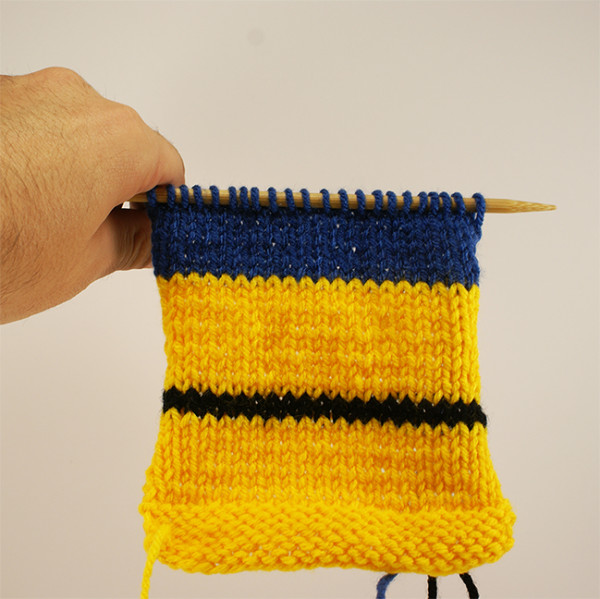 (REP Rows 26 & 27 Three more times)  (REP Rows 30 & 31 Four more times)
Row 34: BO (Row 40: BO)
With double pointed needles, CO 3 sts and create icord. Icord should measure at least 11″(of course you can make it longer, if you wish).
With size G crochet hook and white yarn, Single chain 4 sts and join ends with one stitch. Create 8 sts inside center and then change color to black. Crochet one round for the outline of the eye and BO.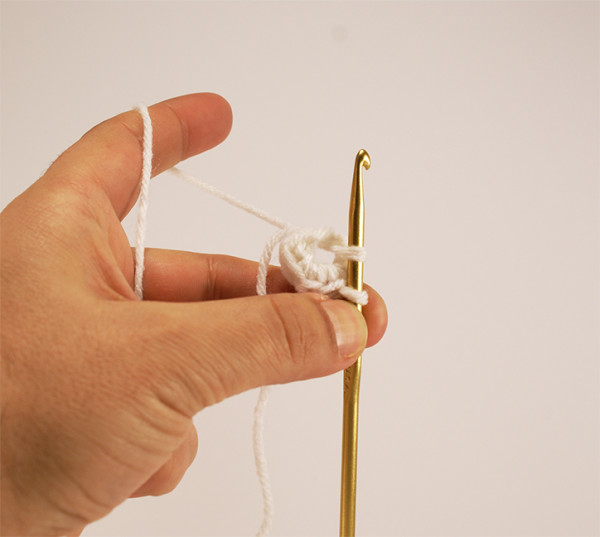 Piecing everything together
When sewing all pieces together, I always recommend using the same colored yarn to seam everything together. This will give your work a nice, clean look.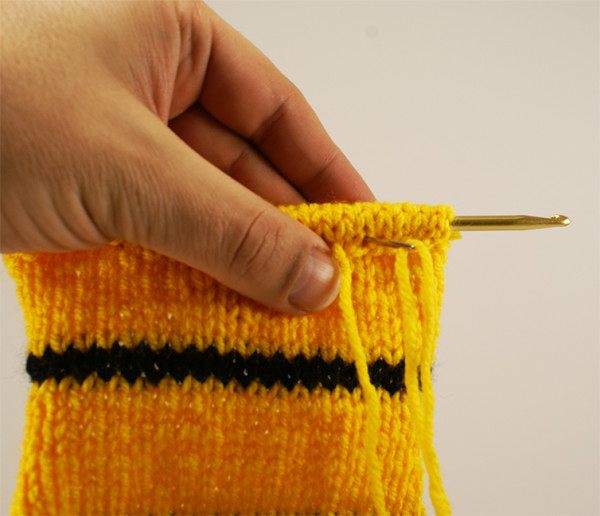 Place crochet hook at the top of your work (where the first 5 knitted rows are), and fold over hook. With tapestry need, sew your seam together. The hook acts as a tunnel to sew around, and then we will pull the icord through the tunnel. Once you have sewn your seam together, attach icord to crochet hook and pull through the tunnel we created.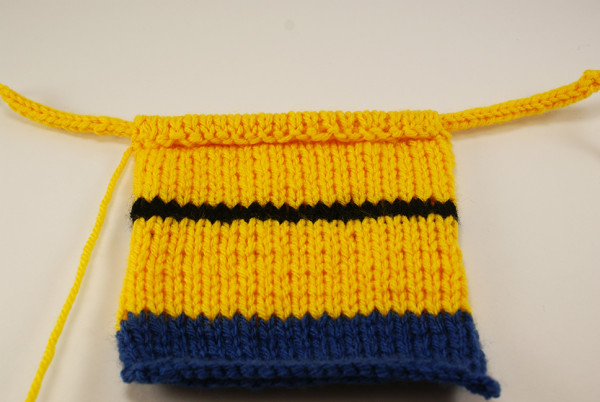 Turn your work to where the wrong side is facing out and fold over in half. With appropriate colored yarn and tapestry needle, you are going to do a quick "whip stitch" along the seam of your work. You want to get as close to the edge as you possibly can, and don't forget change to your different colored yarns to keep things looking nice.
Turn your work inside out to see the proper side of everything. With the tapestry needle and black yarn, you want to then attach the eye along the black color portion of the yarn on your work. Make sure it's centered into the middle of your work, and sew along the black colored yarn of the eye.
Then you want to create the grin of your Minion! It's 3 simple sewed on sts.
1 stitch across, 1 stitch at a slight angle, and then your last stitch to act as cheek portion of the grin.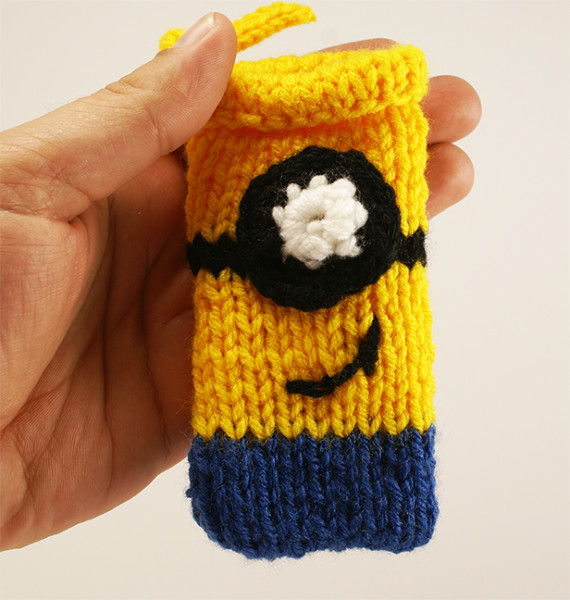 Clean up any extra yarn with scissors and you're done! Have fun with your Minion!