Chocolate Chip Banana Bread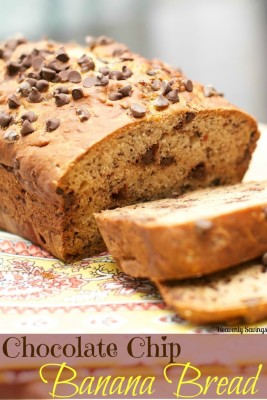 I love to bake bread with my daughter. There is something comforting about baking together and then eating the fruits of our labor as we cuddle on the couch.
Each time my daughter and I bake bread we try to come up with different ideas. Some of you might remember my Mango Bread or my coconut bread….well now I have yet another amazing bread to add to the list! Chocolate Chip Banana Bread!  Banana bread of any kind is a huge hit at my house. But, when you add chocolate to it….it takes it to a whole new level!
Ingredients
2 ripe bananas (with all the lumps mushed out)
1 cup vanilla yogurt (not plain, but can be low fat)
1/4 cup of real maple syrup
1.5 teaspoons of vanilla
1/4 cup of sugar
2 tablespoons of grapeseed oil (vegetable oil can be used)
2 cups of all purpose flour
1/2 teaspoon salt
2 teaspoons of baking soda
1/4 teaspoon of cinnamon
1/4 cup chocolate chips (plus some extra for the top)
Directions
* Preheat oven to 350 degrees.
* Grease loaf pan with butter or spray, line the bottom with parchment paper.
* Combine the bananas (with all the lumps mushed out), vanilla yogurt, maple syrup, vanilla, sugar and grape seed oil (vegetable oil can be used) with a mixer. Blend until lumps are gone.
* Sift the flour, salt, baking soda, cinnamon.
*Add Chocolate chips and stir well.
* Stir into the "wet mixture" until well combined.
* Fold in 1/3 cup of chocolate chips.
* Spoon into loaf pan.
* Sprinkle some additional chocolate chips on top.
* Bake for 45-50 minutes or until inserted toothpick comes out clean.
Whether you are on the look out for some amazing bread to bake for comfort food for yourself or for your upcoming Easter Brunch…this is the perfect recipe for you!
Do you have other ingredients you would add to this recipe? What other types of breads do you like? I would love to read your ideas!