Reese's Peanut Butter Fudge!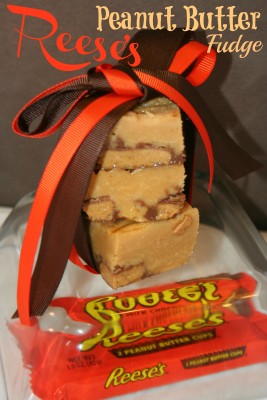 I am addicted to Reese's! They are one of my all time favorite candies. There is something magical about peanut butter and chocolate together! These are the type of candy that I purchase and hide somewhere away from the kids!
If you love Reese's as much as I do then you will want to  make this amazing Reese's Peanut Butter Fudge!
Recently I have been trying to figure out what I am going to make for Easter Dinner. Now I know this is not a dinner idea…but I think that this Reese's Peanut Butter Fudge will make a tasty (and easy to make) dessert for everyone! Plus You can use the Reese's Chocolate Easter Eggs to make this extra special! Yum!
To make the Reese's Peanut Butter Fudge I used a 12×8 Pan, but you can use any thing you want. A 9×13 tends to be too big so for that size you may want to double the ingredients.
Directions:
First you will want to line the pan with Wax paper and Spray with cooking oil.
Using Reese's candy of any size, put one layer over the wax paper.
Prepare fudge:
3 Cups Granulated Sugar
1.5 Sticks of real unsalted butter
5 oz. Evaporated Milk
(Put these three ingredients into the microwave for 2 minutes. Remove and mix,
put back into the microwave for 4 minutes, Remove and mix. Once more in the microwave for 1 minute).
Add: 2 1/4 cups of Reese's Peanut Butter Chips and mix until all chips are melted. Pour over prepared pan with Reese's Cups.
Put the fudge in the refrigerator until completely cooled and set, it will be a very firm fudge.
**For a softer Fudge** After adding the Reese's PB chips and mixing until melted, add 1- 7 oz jar of marshmallow cream, mix well. Pour over prepared pan of Reese's cups.
This is a dessert that is super easy to make and is a dessert that the whole family will enjoy!