Bunny Pretzels – Fun Snack For The Kids!
We are counting down to Easter and Spring Time here at my house. This past week I have watched the grass in my front yard begin to green, the flowers start to peek through the dirt and the snow clouds turn to rain clouds.  With all these beautiful changes comes the renewal of Spring!
As we count down the days to Spring my family and I have had a blast doing "spring time" activities. We have recently got the bikes out of the garage, broke out our flip flops…..and started making ready for spring time snacks!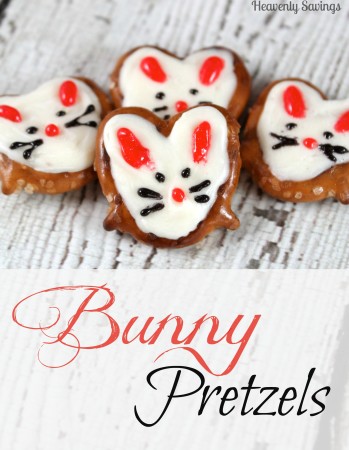 Items Needed:
Mini pretzels
White chocolate chips, melted
Red gel frosting
Black gel frosting
Directions:
Place pretzels on a baking sheet lined with parchment paper.
Place melted chocolate in a piping bag or zip lock bag with a small corner cut off.
Pipe melted chocolate into the holes of the pretzels first, then carefully outline the pretzel and fill in remaining empty space.
Allow chocolate to harden for 10-15 minutes.
Once chocolate has set, if there are any lumps, remove them by gently rubbing over them with you finger.
Using the red gel frosting, create the ears of the bunny and the nose in the center of the pretzel.
Take the black gel frosting and dab two dots for the eyes and carefully draw on whiskers.
*Tip if you can not get a thin line for the whiskers, make a small dot near the nose and use a toothpick to pull the frosting out into a line.