Celebrate Mardi Gras with these festive Mardi Gras Cupcakes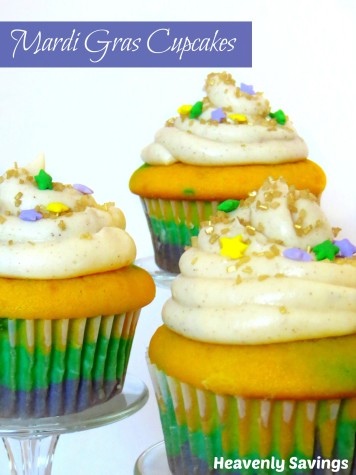 Mardi Gras is just around the corner and although I am not planning on going to New Orleans any time soon, I am planning on living it up right here in my own home with these amazing Mardi Gras Cupcakes!
Plus these cupcakes are so beautiful and festive you will probably want to make them more then once a year! Yum!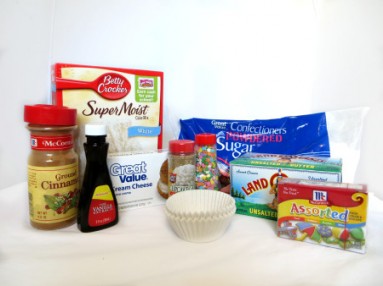 Ingredients:
1 box of white cake mix (plus ingredients called for on the box, i.e. eggs, oil & water)
Food coloring in purple, yellow/gold, and green
1 8 oz. package of cream cheese, softened
¼ cup softened butter
1 teaspoon vanilla extract
½ teaspoon ground cinnamon
3 cups confectioners' sugar
Sprinkles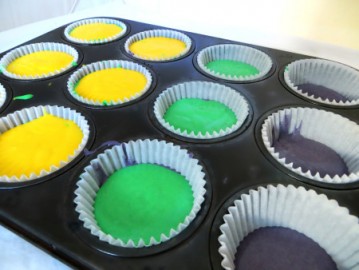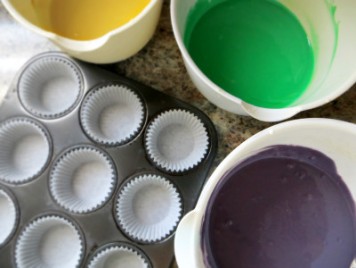 Directions:
1. Make cake batter according to box instructions. Evenly divide batter into 3 separate bowls and use food coloring
to color 1 bowl purple, 1 green and 1 gold. For bolder colors, use more food coloring.
2. Starting with the purple, place a little batter in each of the 12 muffin cups lined with cupcake liners. Then layer
green, followed by gold. Fill batter until it's just below the top of the cupcake liner.
3. Bake cupcakes according to box instructions. Allow to cool before frosting.
4. To make frosting: use an electric mixer to cream together cream cheese and butter. Mix in vanilla extract and
cinnamon. Gradually add confectioners' sugar. Frost all cupcakes and top with coordinating colorful sprinkles.
(Makes 12 cupcakes)