** I was sent product for the purpose of this review. However, my own opinion was used and not influenced in any way.
Herbal Essence Naked Hair Care Set Review!
I was so happy to be able to review the Herbal Essence Naked Hair Care Set and this review is strictly my opinion. I was given a Walmart gift card from Herbal Essences and was able to purchase this product online so easily! I absolutely love this new product of theirs and I will tell you why!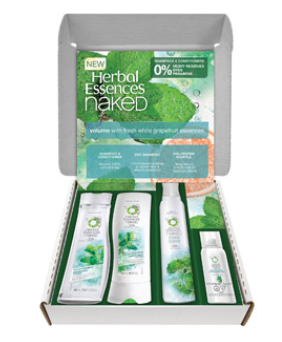 There are four products in this set and each item is amazing. There is the shampoo and conditioner with 0% heavy residues, dyes and parabens which is so great and then the Volumizing Souffle which is to help give your hair that extra boost without having that heavy feel to it and then there is the Dry Shampoo which is my favorite.

The Shampoo and Conditioner is now being used by my entire family because it's been so great! The unique combination of grapefruit and mint is what really makes this product my kids' favorite. I love the smell too because it is light and refreshing but what I love the most about the shampoo and conditioner is that it has no  dyes and parabens and no heavy residues.
I have short hair and cannot have any product that will leave a heavy residue because my hair will not style the way it is meant to be styled. My daughter has long hair and this shampoo and conditioner has exceeded our expectations! It leaves her hair feeling light, shiny and with less tangles!
If you have a hair style that needs some styling with a product to give it that extra boost it needs while still having the ability to run your fingers through it then the Volumizing Soufflé  is what you are going to want to try out! This product foams up quickly and incorporates nicely into your hair.
Now to my favorite product of the kit, the Dry Shampoo. I absolutely love this product. I wasn't sure at first how to use it but after I figured it out it has been a staple for us! When you or your kids are in between hair washing days then all you have to do is spray this product about 6 inches from your head and work in. You will spray it on top of your head, underneath the hair and in sections to be able to make sure it is covered with the dry shampoo. It doesn't take much. You leave it for about 10 minutes and then comb or brush through. You will notice that it feels cleaner and not oily at all! I love it!
I will be buying Herbal Essences Naked Hair Care products from now on!