This is a Fashionista Event.  I was given a promotional item to review by 9thandElm.com to share my opinions about the website.  All opinions are my own. 
 9thandElm.com Is Perfect For All Handmade Fashion!
If you are an avid reader of Heavenly Savings & Homemaking then you know just how important homemade items are to me. Almost all of the gifts that I purchase are handmade. I love the creative ideas that I can find as well as the joy I see in the eyes of my loved ones when they see the thought that went into their gift.
When I first started shopping homemade I was discouraged by the price. I loved the thought of purchasing gifts for my loved ones but I was discouraged by some of the prices. That is why I am so happy to share the amazing web site 9thandElm.com!
9thandElm.com was founded by Clay and Elly Bethune in the spring of 2013 with a mission to bring it's members fabulous fashion from the best handmade and independent designers. We realize it is extremely difficult to sort through and discover handmade fashion geared towards the "fashionista". Search no longer. Exclusive deals handpicked by our buyers will be delivered daily to our users inbox. This site is a multiple designer site.
Thanks to 9thandElm.com I was able to go through the ordering process and purchase some really great stuff. My first item that I choose was this beautiful ME (PLUS) YOU IN GOLDEN HEART NECKLACE.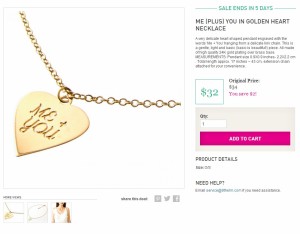 I was so excited for this necklace because of it's beauty and simplicity. I love the simple saying "Me + You".
Ordering on 9thandElm.com was very simple. I just added the item to my cart and went through the checkout process. The package was also mailed to me quickly and I even had a very sweet note from the seller when it arrived. I love this stunning necklace.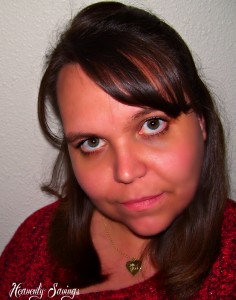 The next handmade item that I purchased was a monogrammed tumbler. I am a sports freak and there is nothing better then showing off my sports pride when I am at a game. Even if that game consists of me sitting at home watching it on T.V.
I was excited to purchase this tumbler because I was able to customize the font and pattern colors to match my all time favorite football team…..THE DENVER BRONCO'S!
As you can see from the screen shots above there was a lot of color choices as well as many different font options. No matter what your favorite team color is you can get a tumbler made to order!
How would you like to win a great giveaway that would give you free shopping credits for 9thandElm.com? I am very excited to say that we will be giving away some great prizes to 3 Winners $400 Total Value $200 Gift certificate and 2 $100 Gift Certificates! Yippe!
Also don't forget to fan 9thandElm.com on social media to stay up to date with all the amazing handmade fashion they have to offer!
By entering this event, please note that you are agreeing to be subscribed to 9thandElm.com newsletter.