Canned – Zucchini Relish
Every fall I get bombarded with Zucchini and Squash. I am not complaining as I LOVE zucchini and squash and with my over abundance of it I am able to come up with new recipe ideas to try! Normally when I get an over abundance of Zucchini and Squash I just can it into pickles. But this year I decided to try something different…….Zucchini Relish!
I don't know why I had never thought of this before but as I was searching through Pinterest for recipe ideas I came across a recipe from Canning Granny for Zesty Zucchini Relish! Now as most of you know I like to play around with a recipe when I find it. But as I took a look at Canning Granny's recipe I could not find a single thing that I wanted to change….so this is HER recipe fully and completely that I would like to share with you!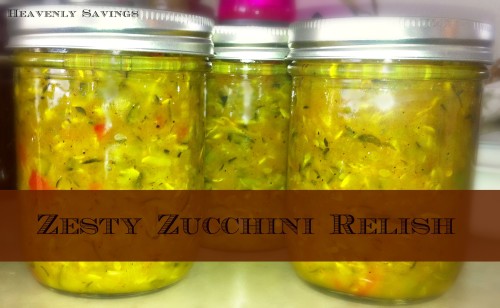 Ingredients:
12 cups shredded zucchini and summer squash
4 cups shredded yellow onion
2 red bell peppers finely diced
1 green bell pepper finely diced
1/3 cup canning and pickling salt
2-1/2 cups granulated sugar
2-1/2 cups white vinegar
1 Tbsp. ground nutmeg
1 Tbsp. ground turmeric
4 Tbsp. prepared horseradish
1 jalapeno pepper, including seeds, chopped
Directions:
1.  Place shredded zucchini/squash mixture, onion and bell peppers into large bowl. Add canning salt and mix well ( I used my hands to mix).
2. Cover bowl and let sit overnight.
3. Transfer mix to colander and rinse well. Once well rinsed use your hands to smash out any excess water that might be in the relish mixture.
4. Transfer mix to large saucepan and add remaining ingredients.
5. Bring mixture to a boil over medium-high heat. Reduce heat and simmer 45 minutes stirring often.
6. Ladle Zucchini Relish into hot pint jars leaving 1/4″ headspace.
7. Remove any air bubbles by sliding a butter knife down sides of filled jars.
8. Add lids and process in boiling water canner 15 minutes (remember to add time for your altitude as needed).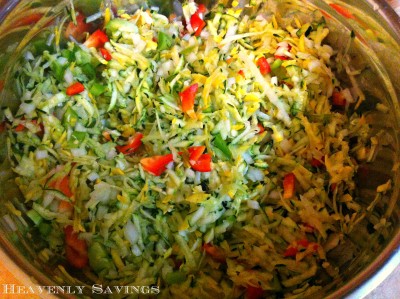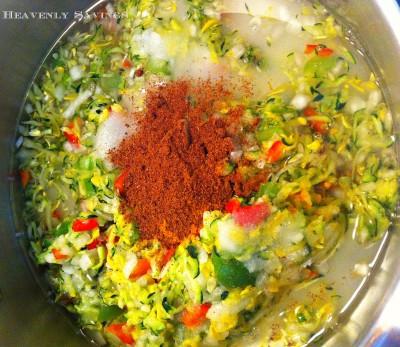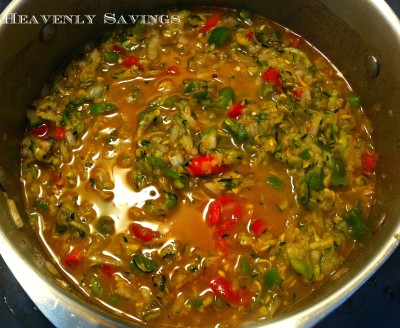 I was blown away by how amazing this Zucchini Relish was. As I stated above I normally find many things to change around with a recipe but with this one I could not think of a darn thing! It is absolutely perfect just the way it is! Thanks Canning Granny for such a great idea!