Crockpot Extra Cheesy Squash Casserole!
We are in the season of squash! It seems that this time of year I have it coming out of my ears! But, I love it so the fact that I have boxes and boxes of it is a good thing!
As some of you might have read I have been focusing my dinners around the slow cooker here lately. It just seems that every day I have so much going on that I can't keep up. That is why I love these crockpot recipes. They help me feed my family without much thought or effort going into dinner!
With all this squash on hand I decided that I needed to come up with an idea to make squash int he crockpot. This is something I had never done before but I was excited for the challenge of coming up with a recipe!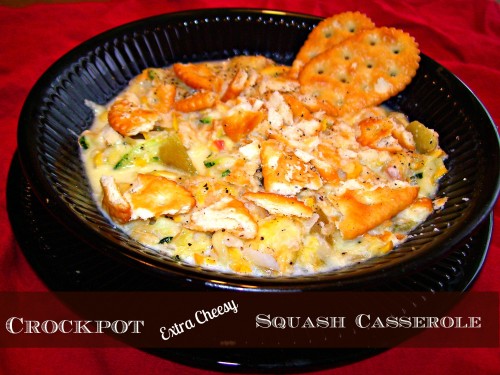 The recipe that I decided to try to make was an Extra Cheesy Squash Casserole! My husband is NOT a fan of squash but he loves cheese so I was hoping that if I added enough cheese he would overlook the fact that there was squash hiding in this dish AND I am happy to report that my trick worked! 🙂
Ingredients:
4 cups shredded squash
1 medium shredded onion
1 can cream of chicken soup
1 cup milk
1 cup water
2 tbs butter
2 cups shredded cheddar cheese
1 cup Parmesan cheese
2 cup minute rice
1 6oz can diced green chili's
Ritz Crackers
Directions:
Add all ingredients except the Ritz Crackers to crock pot and cook on high for 4 hours.
Top with crumbled crackers before serving and enjoy!
This Extra Cheesy Squash Casserole is a perfect meal for a chilly day. I love how easy it was to prepare and it tasted wonderful! Enjoy!