** I was sent a copy of this book and movie for the purpose of this review. However, my own opinion was used and not influenced in any way.
Room on the Broom
by Julia Donaldson and Axel Schaffler
Halloween is fast approaching and I have been trying to build the excitement with the kiddo's. We have been working on Halloween costumes, crafts and treats the whole week.
Along with these fun treats and such we have been watching Halloween movies and reading Halloween type books. One of my most favorite Halloween type book this year is Room on the Broom by Julia Donaldson and Axel Schaffler.
I found Room on the Broom to be one of the cutest Halloween books ever. I love the helping hand that the witch gets from these fun creatures and the help they eventually give her in return for her kindness. Plus with the fun does not stop with the Room on the Broom book….nope….there is also a Room on the Broom movie! The fun will never have to end this Halloween season! I hope all of you get a copy of Room on the Broom and enjoy it as much as we do! Happy Reading!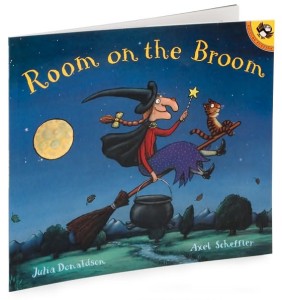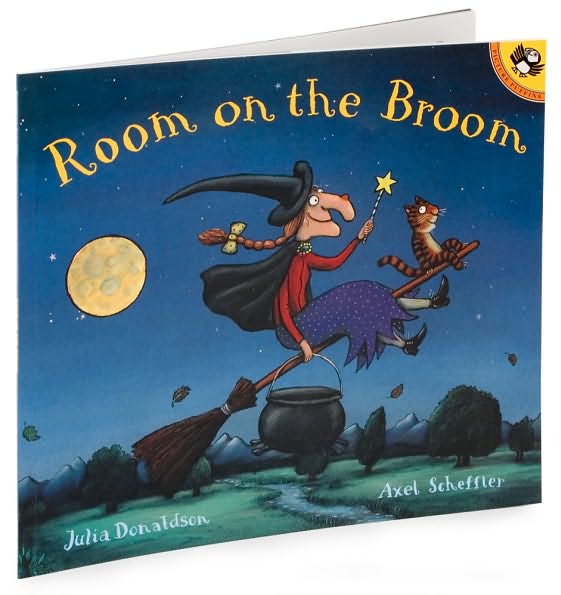 On the Back
The witch and her cat couldn't be happier, flying through the sky on their broomstick—until the witch drops her hat, then her bow, then her wand! Luckily, three helpful animals—a dog, a parrot and a frog—find the missing items and all they want in return is a ride on the broomstick. But is there room on the broom for so many new friends? The kindly witch thinks there is—much to the frustration of her cat.  But when disaster strikes, and the witch is about to be eaten by a fearsome dragon, she is saved by the gang of animals, all working together.  The witch's cat learns the importance of friends and family, and the witch rewards her new friends with a magnificent broom that is big enough for everyone!
Would you like the Room on the Broom fun to continue? I am happy to say it can! Just visit this link to learn how to make Room on the Broom finger puppets to go along with the story!