Roasted Garlic Jelly
I am a garlic lover. I add garlic to everything. I mean EVERYTHING! So when I came across this recipe for Roasted Garlic Jelly it was a given that I would try it out! I could not resist….even though the thought of Roasted Garlic Jelly sounded disgusting!
I found this recipe when I was looking for canning ideas for all the garlic I received from my Grandmother. I had never heard of  Roasted Garlic Jelly before and I was actually shocked that someone had ever thought to make it into a jelly. But, after trying this out I know that I will be making it much more often! It was amazing!
Roasted Garlic Jelly is not something that I would eat on a peanut butter and jelly sandwich. But I loved it on crackers with cheese. I can't wait for the holidays to share my Roasted Garlic Jelly with all my friends and family! It is going to be great served as an appetizer at our holiday meals paired with cheese and crackers! I can't wait!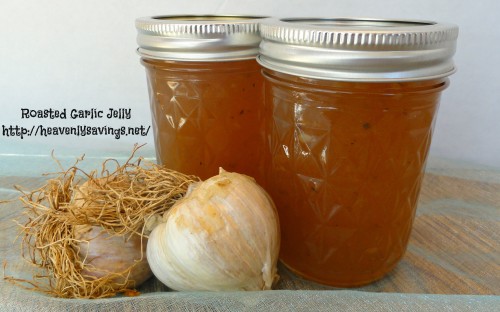 Ingredients:
3 heads garlic roasted 1 T. Balsamic vinegar 1 cup dry white wine 2/3 cup water 1/2 cup white balsamic vinegar 1 t. fresh peppercorn 3 T. lemon juice 3 cups sugar 2 pouches liquid pectin  
Directions:
1. In a large saucepan combine roasted garlic, wine, water, balsamic vinegar and fresh cracked peppercorn. Bring ingredients to a soft boil over medium heat cook for 5 minutes stirring often.
2. Remove from heat and let cool.
3. When mixture is cooled transfer to food processor or blender. I used a Magic Bullet. Process until garlic is fully blended and there is no chunks.
4. There should be about 1 2/3 cup of mixture. If not then add wine (up to 1/4 cup) until you have that amount of liquid.
5. Dump the garlic liquid back into sauce pan. Turn heat back on to medium high and add lemon juice and sugar stirring often. Bring liquid to full rolling boil. Add pectin, stir constantly for 1 minute. Remove from heat and add to jars leaving 1/4 inch headspace. (this is also the time to skim off the foam if you have any. I didn't so there should not be any)
6. Process in water bath 10 minutes. (Remember to add time if needed based off your altitude)
I am a huge fan of this Roasted Garlic Jelly! It turned out amazing and I was surprised that the garlic flavor was actually sweet and very mild in the jelly. What an amazing addition to my crackers! Yum!
Thanks Canning Homemade for this amazing recipe!