** I was sent a copy of this game for the purpose of this review. However, my own opinion was used and not influenced in any way.
Monopoly Empire
I am a sucker for Monopoly! It is one of my all time favorite board games. I have probably played Monopoly over 100 times in my life. I just can't get enough.
Recently I was sent a copy of Monopoly Empire for the purpose of this review. I was really excited for this game because it gives a twist to my favorite game. Instead of playing to purchase land…..you can purchase the name brands that we all know and love. Brands like Xbox, Coca-Cola, EA Sports, Chevrolet, ebay and more!
The tokens in this game are also a little different. Instead of the dog and top hat you can play with a box of McDonald's French Fries, a movie reel or a motorcycle…and they are gold in color! How fun!
Also in this game you will not be purchasing home and such but you will be building empire towers where you can add the brands you own. You can build an entire city of brands. I really like the new twist to this game. Plus it was exciting for my daughter as well. She was thrilled to be able to purchase brands that she sees every day like Nerf and Samsung! What a blast!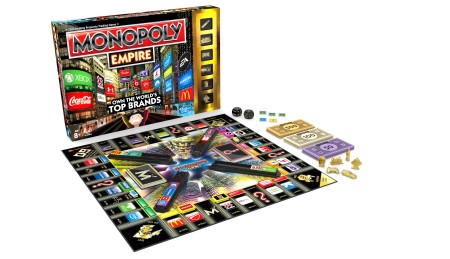 From Press Release:
MONOPOLY EMPIRE Game 
Age: 8+; Players 2-4; Available: Summer 2013; Approximate Retail Price: $19.99
Experience everyone's favorite property trading game in a whole new way! With the MONOPOLY EMPIRE game, kids can now buy and sell some of the world's favorite brands. Twenty-two top brands such as Coca-Cola, Xbox, Samsung, EA and McDonald's line the tricked out game board, letting players live out the fantasy of owning it all! Make your way around the board buying up your favorite mega brands and adding them to your billboard tower. Collect rent from your opponents based on your billboard and be the first to complete your town to win the game!
How would you like to win Monopoly Empire? I am excited to say that one lucky Heavenly Savings reader will be able to do just that! Open to U.S. residents only! Good Luck!