~Healthy Halloween Jack-O-Lanterns!~
Great Kids Halloween Snack!
 
We happen to love Halloween at our house! We always have fun thinking all year long of what we want to be dressed up as and our whole family gets into it. It's a night where you can let your imagination go free and be whoever or whatever you want to be with no one judging you or thinking you are crazy as you walk around getting candy! (well, now I stand on the sidewalk and allow my kids to be the ones getting candy, but you know!)
As shocking as it may sound to my children, Halloween isn't ALL about candy & dressing up, ok possibly 95% but that other 5% is about finding fun ways to incorporate Halloween in a healthy way so we can stretch out the fun feeling of the holiday! These healthy Halloween jack-o-lanterns are the perfect way to show some Halloween fun PLUS get some fruit in for the day!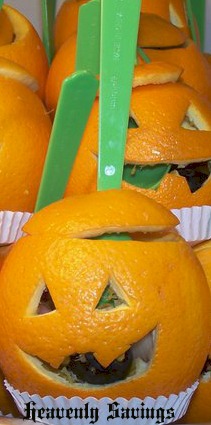 Here is what you will need –
Oranges (however many you are wanting to make)
Fruit such as grapes, apples, kiwi, strawberries, cut into bite sized pieces (you will need about 1/3 cup per jack-o-lantern.
Green plastic spoons
Directions –
1.) Cut off a small piece of orange on the bottom of it so it will lay flat. Cut off the "lid" of your orange. Ever orange is going to be a little different so you just have to work with it some.
2.) Hollow out your orange with a metal spoon or if your orange isn't cooperating you can use a grapefruit spoon.
3.) mix all the fruit together and set aside.
4.) With a paring knife you will need to start creating your jack-o-lanterns however you want the face to look like! You can get creative or keep it simple with the triangle eyes etc. but remember not to make a mouth so big that the fruit falls through!
5.) With the paring knife you can cut an opening on the "lid" and slide it through the top portion of the spoon so the lid sits on the bottom portion of the spoon.
6.) Fill cup with fruit and add the spoon and lid and viola! You have an adorable healthy Halloween jack-o-lantern!
~Enjoy~