9 Layered Summer Salad!
Salads are my most favorite thing to make. I love the mix of all the fresh vegetables that can be added to a salad and the taste of a salad is out of this world in my opinion. Especially if the salad is made right!
For the past few years when ever there is a potluck I am always asked to bring the salad. It is the one thing that I always seem to get right when it comes to cooking! Super simple and delicious!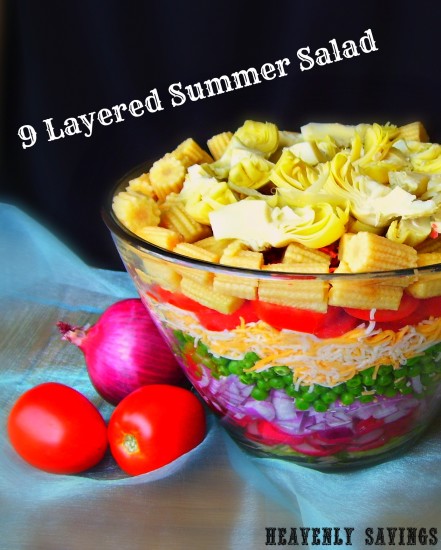 Ingredients:
16 oz bagged salad mix 1 bundle radishes diced 1 small purple onion diced 6oz frozen peas 6 oz shredded cheese 10 oz cherry tomatoes  16 oz baby corn diced 1 4oz container bacon bits 16 oz artichokes drained and diced
 Directions: 
1.  First I start off the salad with 1-2 handfuls of lettuce out of the bag mix. Of course you will want to make sure your hands are clean 😉 You will also need to layer this salad in a see through bowl so that you can really see the effect of the layers.
2. Next I layer the sliced radishes. I only layer the radishes in a ring around the inside of the bowl leaving a gap in the middle where I can place more lettuce. This allows you to have enough lettuce in your salad and not just a bowl full of toppings.
3. Place enough lettuce in between the layers of radishes so that the layer will be even. Then add diced onion in a ring leaving a gap between the onion as well for more lettuce. To better help you understand you can view the picture below…..
4. After filling the gap with more lettuce making the layer of onion even I add a ring of frozen peas and then cheese. Making sure to fill the gap with lettuce just as I had done before.
5. The next thing I place in the bowl is the tomatoes. You can use these hole or dice them. It's your choice. This is the layer where I stop adding lettuce in the middle. I just layer the tomatoes all the way across the top of the bowl.
6. On the tomatoes I then layer the baby corn, then the artichokes. Both of these layers will also go all the way across the top of the bowl.
7. Last but not least I add the Bacon Bits. I just spread them all the way across the top of the artichokes to create the 9th layer!
This salad always turns out amazing! It is very simple and looks stunning! It will be the perfect addition to any pot lucks you might be attending this summer! Enjoy!
Don't forget to click the 'Magic' button below for Nutritional Information and Weight Watcher's points for this recipe!