Italian Zucchini Boats
I love this time of year. Why? Because its harvest season which means lots of fresh vegetables!
Recently I was given a bag filled with zucchini. I love getting fresh produce because it gives me a chance to try new recipes! One of those recipes that I decided to try out with my fresh zucchini was these amazing Italian Zucchini Boats! Someone posted a picture of these on my facebook page the other day. I did not really have a recipe for them per se…..but they did not look too hard so I knew they were worth a try.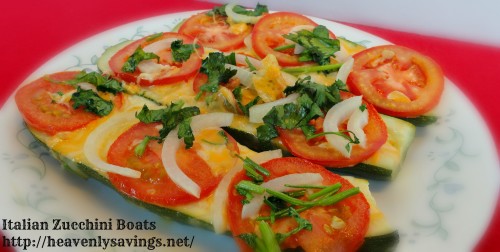 Ingredients:
3 medium zucchini
1 thinly sliced tomato
1 cup shredded cheddar cheese
1/4 cup sliced fresh basil
1/2 sliced medium white onion
Directions:
1. Preheat oven to 425 degree's F.
2. Wash and slice zucchini in half length wise. Also slice a THIN piece off the bottom of each Zucchini to allow them to sit flat.
3. Place zucchini on baking sheet and bake for 15 minutes.
4. Remove zucchini from oven after 15 minutes. Place a handful of cheese, sliced onion, sliced tomatoes and fresh basil on each slice of zucchini.
5. Place back in oven and bake an additional 15 minutes or until cheese is fully melted.
6. Serve and enjoy!
These zucchini boats were a great addition to our dinner! My family loved them and I loved how healthy and easy they were to make! I now know these will be a staple in my home! yum!
Next time I think I will add garlic, pepperoni and maybe some olives to make a zucchini boat pizza! Sounds great to me!
Have you ever made a Zucchini Boat? What toppings do you like on your zucchini?