Canned Roasted Garlic Mustard!
As most of you know my Grandma is an avid gardener. Her garden is bigger then any garden I have ever seen and because of this there is always enough fresh fruits and veggies for the whole family to enjoy!
A few weeks ago my Grandma sent me home with a garbage bag filled with garlic. I had the intention of just pickling all of it and canning it. But then I got to thinking that there was probably some really amazing recipes around the internet that contained garlic. Boy was I right! I found so many amazing ideas!
One of my favorite ideas was a recipe at Local Kitchen Blog. It was a recipe for Roasted Garlic & Lemon Mustard.
I had never thought to make my own mustard before and the addition of roasted garlic and lemon made this recipe intriguing to me. I knew I had to give it a try!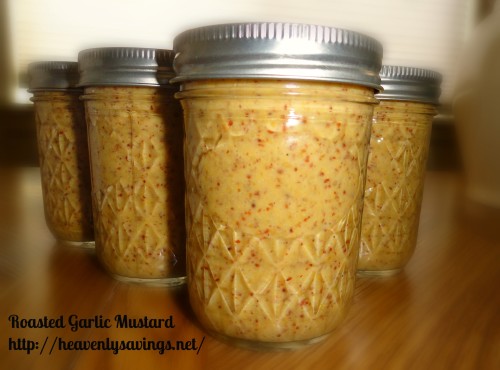 Ingredients:
3/4 cup dry white wine
1/2 cup yellow mustard seeds
1/2 cup brown mustard seeds
3 heads garlic – tops cut off heads and ready to roast
1 tsp olive oil
1 and 1/4 cup white wine vinegar
juice from 2 large lemons (about 2/3 cup)
1 tsp  lemon zest
1/2 cup honey
1/2 tsp Kosher salt
1 tbs garlic powder
Directions:
1. In medium bowl, combine mustard seeds and white wine. Cover and let sit over night to allow seeds to absorb wine.
2.  Preaheat oven to 350 degrees F and Roast the garlic for 50 minutes or until garlic is golden brown.
3. Once garlic is roasted, remove from outer casing. I just squeeze the garlic out of the casing by pinching it at the tip of the casing.
4. Place roasted garlic cloves in food processor. Add 1/2 c vinegar and process until smooth. Add mustard seeds, wine, lemon juice and vinegar. Process until smooth.
5. Transfer mustard to saucepan and heat mixture on medium heat. Add honey and salt. Bring to a simmer stirring constantly until mustard is thinned out and watery. It will thicken as it cools. Stir in lemon zest and garlic powder. Cook for 1 minute longer to mix in seasoning.
6. Pour into hot jars and process 15 minutes in water bath. Remember to add time based on your altitude if needed!
Thank you Local Kitchen Blog for this amazing idea!