**I was sent 5 Fantasy Coloring Posters for the purpose of this review. However, my own opinion was used and not influenced in any way.
Fantasy Coloring Posters
My daughter has a fascination with dragons. About a year ago I can remember that I was enjoying the sound of her playing outside. She was prancing around the backyard flapping her imaginary wings and pretending to breath fire. Since that day I have heard her play 'dragons' many, many times. In fact just two days ago she was flapping around the family room breathing fire to kill imaginary prey. She then cuddled up on the couch with me to "eat" her prey.
My daughter lives in her own little world sometimes and I can honestly say that it is nice to join her in her world sometimes.
Recently I was given the option to review some great Fantasy Coloring Posters. I was thrilled because I knew that these great coloring posters would include Dragons!! I could not wait for them to arrive. I knew that as soon as I opened the box and showed them to my daughter she would be glowing with excitement.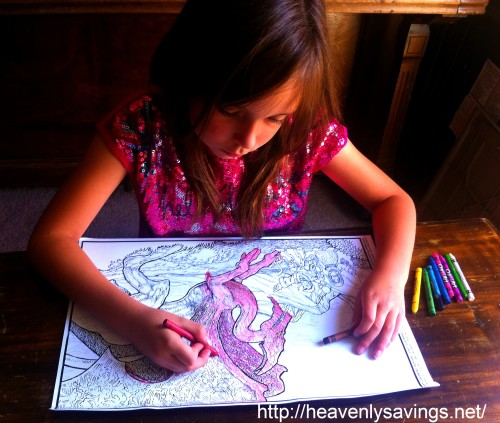 I was blown away when I opened the box. These color pages are filled with detail. I could see every rock, every scale on the dragons and every feather in the wings. These are not your basic childrens color pages….oh no! These fantasy coloring posters are filled with depth. After seeing them I knew that my daughter would not be the only one who got to have fun coloring these beautiful coloring posters. They are simply stunning!
Fantasy Coloring Posters sell their 11×17 posters for just $1 each and that includes shipping! But, due to shipping costs they will only ship to the U.S. …..sorry to my international readers.
You can also purchase Mini Posters for just $0.33 each or purchase these awesome Fantasy Coloring Pages in bulk or in coloring book form.
How would you like to win some amazing Fantasy Coloring Pages of your very own? I am happy to say that one lucky U.S. reader will be able to score 10 coloring pages of their choice! Good Luck to everyone! Also don't forget to check out Fantasy Coloring Posters on all their social media outlets to learn more!
Twitter:
https://twitter.com/Design_249