** I was sent a box of Rembrandt Stain Dissolving Strips for the purpose of this review. However, my own opinion was used and not influenced in any way.
Rembrandt Stain Dissolving Strips
If you would have asked me 6 months ago if I was concerned with the color of my teeth I would have told you no. But, I am constantly trying to change myself and help to boost my self esteem. About two months ago I decided that I was going to start focusing on things that I wanted to change. One of them was the color of my teeth. I have never had 'overly yellow' teeth and I attribute this to not smoking and not drinking coffee. But, upon closer inspection of my teeth they were not perfectly white either.
Needless to say I have been purchasing 'whitening' toothpaste but I have not yet purchased any whitening strips. That is why I was very excited to give Rembrandt Stain Dissolving Strips a try.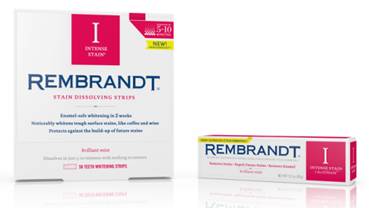 These strips intrigued me because I don't have to remove them. I can place them on my teeth quickly and I don't even need to look in the mirror to place them right….after they are placed I can head out the door and not worry about them. The Rembrandt Stain Dissolving Strips dissolve in 5-10 minutes….so basically they are dissolved before I even get to my daughters school in the morning! Score!
The Rembrandt Stain Dissolving Strips contain 56 teeth whitening strips and you will need to use them twice a day for 2 weeks. The bonus to the twice a day is that you can do them one right after the other. So basically I can place them right before I leave to drop my daughter off in the morning and then place another set as I leave her school. It's that simple!
I have now used these Rembrandt Stain Dissolving Strips for 1 week and I can honestly say that I see a difference in my teeth. I am very impressed! I really enjoy these new Rembrandt Stain Dissolving Strips and how simple they are to use!
Just remember not to run your tongue over the strips after they are placed and of course don't eat or drink anything until they are dissolved! But, that's all you need to remember! Your whiter teeth are just two weeks away! Enjoy!
Also National Tooth Fairy Day is Today! What a great way to celebrate!