Homemade Apricot Salad Dressing!
I love canning and here recently I have been trying out lots of new recipes that I had never tried before. This includes the amazing Apricot Salad Dressing!
My uncle has an apricot tree here and brought me over a huge bag of them the other day. I still had a lot of canned apricots from last year so I decided that I needed to do something different and really fun with these apricots. That is when I came across the recipe for Apricot Salad Dressing. The recipe looked very easy so I decided to give it a try!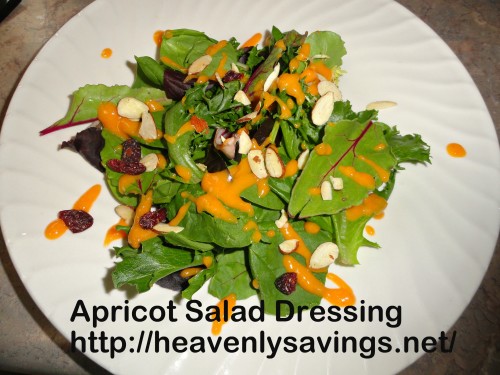 Ingredients:
4 apricots
4 Tbsp white wine vinegar
2 tbsp sugar
1/2 tsp sea salt
1/2 cup olive oil
Directions:
Add all ingredients into Magic Bullet and blend away!
Yep that's it! Just add the ingredients and blend!
I could not believe how easy this recipe was to make! I had never made my own fruit dressing before and I was excited to give it a try. So, for dinner that night we had amazing salads! The Apricot Salad Dressing was a huge hit and my whole family loved it! Yum!
Since this recipe was such a success I decided to make a whole lot more. I was unsure how long it would keep in the fridge and I did not want to cold pack it int he canner because of the oil…so I purchased freezer safe containers and froze enough of this amazing Apricot Salad Dressing to last my family the whole year! It turned out great!
If you are on the lookout for something different to do with apricots or if you would like to make your own fruit salad dressing then I highly recommend this Apricot Salad Dressing Recipe!
Thanks Pick Fresh Foods!