Indonesian Peanut Chicken!
I became a nanny at a young age to one little boy whose parents worked an hour away and were very career orientated. The little boy was 4 when I first met him and his mom absolutely loved trying out new foods and she sparked the love of cooking and baking in me. I had absolutely no idea how to cook other than boil water and make toast. So needless to say I was so grateful when they hired me with very little cooking experience! I had the desire to learn and one of my first recipes to ever cook and master was this delicious Indonesian Peanut Chicken recipe. Forward 18 years later and I now make this dish for my own family and have the ingredient list in my head. It's my go to dinner recipe when I can't think of anything else to make that is creative and my family loves it so it's a win win! If you have the spices in your cupboard already then this dish can be VERY cheap to make, most of the time all I need is the chicken and buttermilk!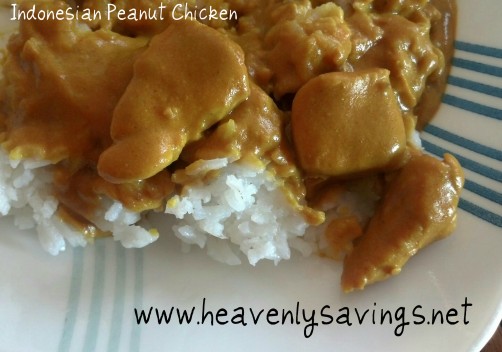 I am a sauce girl, I absolutely cannot stand having a dish that is supposed to be poured over rice and there isn't enough sauce to go around which is one of the reasons why I love this recipe. The peanut sauce is outstanding and there is plenty of sauce to go around!
This will serve 4-5 adults
Ingredients
Rice (whatever you like & however much you want, we do the rice cooker and I add 1 cup of rice and 2 1/2 cups water for two adults and two kids but for rice leftovers you can make more)
4 Boneless/Skinless Chicken Breasts cut into bite sized pieces
4 tsp. olive oil
1/2 tsp Spike seasoning or Mrs. Dash (whatever you have)
3 TBS lemon juice (reserve 1 TBS)
1 1/2 tsp. Cumin (reserve 1/2 tsp)
1 tsp. Ground Ginger
2 Cups Buttermilk
6 TBS peanut Butter (whatever you have)
6 TBS Soy Sauce
1 garlic clove, minced if I have it, sometimes I don't and it's still amazing
2 tsp. Dry Mustard
2 tsp. Tumeric
1/2-1 tsp Crushed Red Pepper (optional for desired heat)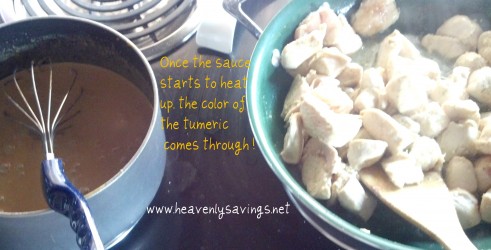 Directions
Start your rice in your rice cooker (or however you like to cook it)-
1.) Heat chicken with olive oil, 1 TBS lemon juice, 1/2 tsp. Cumin & 1/2 tsp. Spike or Mrs. Dash seasoning
2.) In saucepan combine the remaining 2TBS lemon juice, 1/2 tsp Cumin and the rest of the ingredients.
3.) Bring to a boil over med/high heat and stir with wire whisk frequently. Reduce to heat to simmer about 5 minutes.
4.) Pour Sauce over chicken and stir
5.) Serve over rice
I Hope you enjoy this meal as much as my family does! The little boy I once started out cooking for is now a senior in college and I still get to randomly make this dish for him!
~Tammy~