Canned Strawberry Rhubarb Pie Filling
As some of you might remember I scored a great deal on strawberries and rhubarb recently. I had a blast going through recipe ideas to figure out exactly what I should do with all these delicious strawberries and rhubarb. One of the recipes I knew I would be making for sure was the pie filling! I was thrilled to be able to make Canned Strawberry Rhubarb Pie Filling as well as syrup and jelly!
My husband is  a pie lover. He would choose pie over cake any day and one of is favorite pies is Strawberry Rhubarb. Because of his love for pie I decided to can as much Strawberry Rhubarb Pie Filling as I could.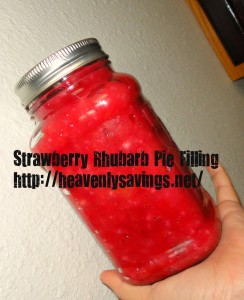 Ingredients:
8 Cups diced strawberries
8 Cups diced rhubarb
6 Cups sugar
1/2 Cup Cornstarch
1 1/2 Cup Flour
Directions:
1. Add first three ingredients in large saucepan.
2. Cook on medium heat. Stir often until sugar is dissolved.
3.Add cornstarch and flour. Continue cooking over medium heat until mixture thickens.
4. Pour filling into sanitized jars and water bath for 15 minutes. (Remember to add time for higher altitude as stated in the Ball Canning Book)
– Makes three quarts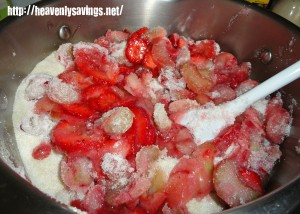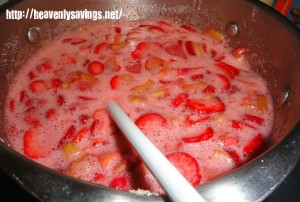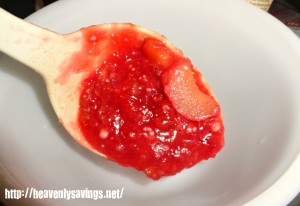 I love canning pie filling. It is much easier to bake a pie with the filling pre-made! Plus there is no better combination then strawberries and rhubarb!
 Thanks for this recipe idea Tale of Three Girls!