Bacon Brocolli Salad!
I will never forget the first Christmas party I spent with my husbands family. I was nervous because I had never met any of them but at the same time I was filled with excitement to get to know more about his family and who helped make him into the person I was growing to love.
While at this Christmas party I seen a salad unlike anything I had ever seen before. A salad that had a main ingredient of Broccoli…but also contained some of my favorite ingredients like red onions, sun flower seends and bacon!
I could not wait to give this salad a try…and I must say it was one of the best salads I had ever had in my entire life!!
That night I immediately asked for the recipe and I can say that since then I have made this salad TONS of times! I still can't get enough!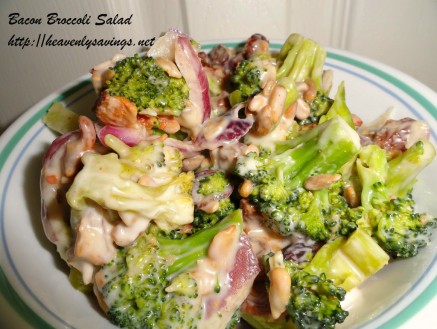 Ingredients:
2 heads fresh broccoli 1 cup raisins 3/4 c diced red onion 4 tbs white sugar 6 tbs white vinegar 2 cup mayo 1 1/2 c sunflower seeds 1 package bacon cooked and crumbled
 Directions:
1. Cook bacon by following package directions.
2. Dice broccoli and blanch in pot of boiling water for 2 minutes.
3. Remove broccoli from pot, drain, rinse with cold water and set aside.
4. In medium mixing bowl add sugar, vinegar, and mayo. Stir together to make dressing.
5. Slice onion.
6. Add broccoli to bowl with sunflower seeds, crumbled bacon, raisins, mayo dressing and onions. Mix well.
7. Refrigerate until ready to serve.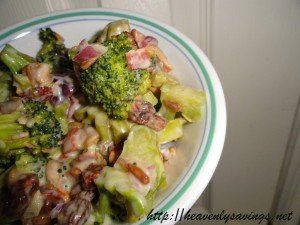 I love this Bacon Broccoli Salad! I can't wait for the next BBQ cookout so that I can have this amazing Bacon Broccoli Salad! Yum!
What is your favorite BBQ/Potluck side dish?