Steel Cut Oats Breakfast
Here is my daily breakfast that I love ~ I believe it's healthy but also delicious and the best part is that I can prep the oats on a Sunday and keep it in a container in the fridge for the week and just scoop out my portion each morning and add my toppings, microwave it and viola, I have a fast and easy breakfast that is delicious!
I prefer steel cut oats over rolled oats because of the texture – steel cut oats are known to have a nuttier flavor and more chewy than rolled oats which generally are mushy. Don't get me wrong, I am a fan of all oatmeal but the steel cut oats are my favorite! Here are my steel cut oats that I buy in bulk at a natural grocery store ~
This is so simple that it's just become a routine with me and the best part is that my daughter shares the love of this breakfast with me so together we can add different flavors together but overall it stays pretty close to the recipe I will give you – I love though that you can make this to your taste and add different things that you have in the cupboard and different fruits with the season – right now we are adding strawberries to the top of our oatmeal –
Here is how I make my favorite oatmeal ~ remember I make a bigger batch of oatmeal to last about a week depending on who is eating it in the house – if it's just me and my daughter then this recipe will last us for four mornings – my portion is a little less than a cup of cooked oats and hers is a 1/2 cup portion.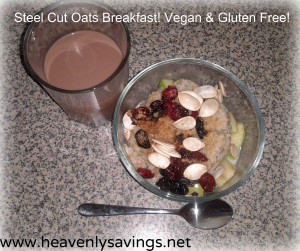 Ingredients:
2 Cups Steel Cut Oats + 6 Cups Water
Apple ~ of your choice cut up into bite sized pieces (I use one whole apple for me and a half apple for my daughter)
Cinnamon ~ Sprinkle as much as you like, we love cinnamon
Raisins~ about 1 TBS  (I LOVE the golden raisins but use whatever I have on hand)
Dried Cranberries~about 1 TBS  (Also try Goji berries~ those are amazing in this)
Slivered Almonds ~ about 1 TBS or however much you like or omit if you don't!
Ground Flax Seed ~ I love to add Flax seed so I use about 2 TBS
Pumpkin Seeds (optional of course and we don't use in the summer time as much)
Pumpkin Pie Spice (optional again and we don't use in the summer time as much)
Almond Milk ~  Splash this in right before you microwave (we use vanilla unsweetened)
Directions~ For Oats
1.) Pour Steel Cut Oats and Water into a big pot and bring to a boil. Once at a boil then reduce heat to simmer for 25 minutes stirring occasionally
2.) Once Steel Cut Oats are done then pour into a glass dish with a lid or whatever container you have and store in the fridge
Or of course you can start your bowl for some fresh oatmeal as well!
Directions ~daily breakfast~
1.) Slice up and apple into bite sized pieces and put into microwave safe bowl
2.) Place about a cup of cooked steel cut oats in bowl and top with the rest of the ingredients
3.) Microwave for about two minutes and enjoy!
* In the picture it is served with dark chocolate almond milk…yum!*
We end up omitting the pumpkin seeds and pumpkin pie spice in the summer and use fresh strawberries on top instead and more cinnamon. Sometimes we stick a little coconut oil on top as well and it gives it a different flavor. Mix it up and add ingredients that you love! I just love having the oats done for the week because slicing the apple in the morning is what takes the longest and that's too bad at all – you can also put this in a glass container with a lid to go and take it to work with you! This breakfast is hearty to us and sticks with us so we aren't hungry until lunch!
Enjoy!
~Tammy~