I participated in a campaign on behalf of Mom Central Consulting for Cascade Dishwasher Detergent. I received a product sample to facilitate my review and a promotional item as a thank you for participating.
For my birthday this year I decided to break down and spend the money on something I had been wanting for years…..a dishwasher.
Now that my dishwasher is in my house its time to focus on the best dish washing soap that will not only get my dishes sparkly clean but also sanitize and keep my machine running efficiently.
As soon as we got the dishwasher home and all set up I opened the door of the dishwasher and seen that the soap dispenser already had a brand name of soap written on it. That name is Cascade.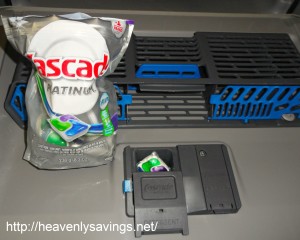 I knew that I wanted a dish washing soap that would get everything sparkly clean without me having to pre-wash everything before putting it into the dish washer.
I decided that since I knew and trusted the Cascade name I would give their Cascade Platinum a try.
Thanks to Mom Central Consulting I was able to try Cascade Platinum much quicker then I anticipated! They sent me a package of 14 Casecade Platinum pacs that I could not wait to try!
Cascade Platinum contains Dawn for grease fighting power. It also has the power to fight tea & coffee, give your dishes a brilliant shine, and get off tough food enzyme's.
When I tried out the Cascade Platinum I made sure it was with dishes that had stuck on food. I mean more then 24 hours of  the messiest food possible and I did NOT pre-rinse anything!
I just loaded the dishwasher, popped in a Cascade Platinum pack and let the dishwasher and soap do their job.
When the dishwasher did it's little chime to let me know it was finished I could not wait to get it open. I wanted to see just how well this Cascade Platinum worked…boy was it amazing! There was no stuck on foods, everything was spotless and there were not even any water spots on the glassware! Yippee!
I am truly pleased with Cascade Platinum. I know that this will be my #1 choice in dishwasher soap from here on out. No more washing by hand and no more pre-rinsing dishes! Plus with Cascade Platinum there will be no hard water buildup on my machine! That makes this an extra added bonus in my eyes!
* Right now Cascade has a great Instagram contest going on! The Cascade 'My Platinum' contest is a 4 week contest that will have a new theme each week. Just upload one of your best photos that fits with that theme and you could win!
Want to learn more about Cascade Platinum? Don't forget to check them out on facebook!