Strawberry Nutella French Toast
I try my best to make a good breakfast at least one time each week. This is usually on Saturday mornings as it is just about the only time that I can actually get my family together in the mornings. Breakfast is one of my favorite meals to cook and the family time together is priceless. Spending time over breakfast is a great way to start out the day.
One of my all time favorite breakfast foods is french toast.  Not only do I love to eat french toast but it is also easy to make and there are so many topping options that you can add to french toast!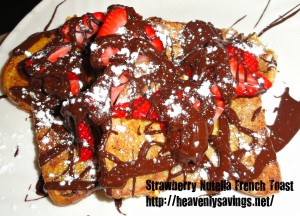 One of my favorite ways to eat french toast is with Nutella, sliced strawberries and powdered sugar. It is a way to really dress up your french toast and who does not love chocolate and strawberries together…Yum!
Ingredients:
6 eggs 1 cup milk dash cinnamon  12 slices bread  
Toppings:
Nutella Sliced Strawberries Powdered Sugar
1. Add eggs,milk and cinnamon together in large bowl. Wisk together until well mixed.
2. Place bread slices one at a time in bowl with egg mixture and let soak for a few seconds per side. Make sure each slice of bread is soaked with the egg mixture before placing into skillet or on griddle.
3. Place toast in skillet or on griddle. Cook on each side about 2-3 minutes on medium heat or until each side is golden brown.
4. Plate two slices of french toast on plate and serve with Nutella, sliced strawberries and powdered sugar! Serve and enjoy!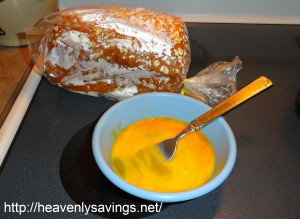 Strawberry Nutella French Toast is a family favorite at my house. I don't get a chance to make it too often but when I do the family loves it! Nutella is a great addition to anything as are strawberries! Enjoy!