Rosemary Balsamic Ham
I am a huge fan of ham. There is nothing like a family get together around with a nice Ham Dinner!
I know that it is now summer time but that does not mean that I won't be cooking up some great ham dinners for all the family! I love to have guests and huge family dinners in my home and this is one meat that I never get wrong! Yum!
Recently I made an amazing Rosemary Balsamic Ham. The flavor was out of this world! I can't wait to try this recipe again!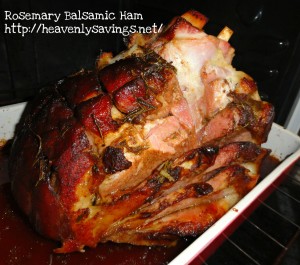 Ingredients:
4-5 lb pre-cooked ham, bone in
5 Tbsp. brown sugar
5 Tbsp. balsamic vinegar
4 Tbsp. grainy mustard
2 Tbsp. chopped fresh rosemary
2 Tbsp. garlic granules
Preheat your oven to 375F
1. The first step to making a great ham is to score it. This will allow for the flavors to soak into the meat. To do this you will want to place the ham in the dish that you will be baking it in. I then take a knife and cut about 1/2″ deep into the meat.
2. After the meat is scored you will want to pre-heat the oven to 375 degrees F. Then start to mix your marinade. To do this just add all ingredients (brown sugar, balsamic vinegar, mustard, garlic and rosemary) and mix well. After marinade is mixed you will want to take 1/4 of the marinade and pour over ham. Really try to get all the marinade into the score's of the ham. Cover ham in aluminum foil and bake for 1 hour.
3. After ham has baked for 1 hour, remove aluminum foil and pour remaining marinade over ham. Continue baking 45-60 minutes basting marinade over ham every 10-15. This will help the flavor to soak into the meat!
Let ham sit about 5 minutes before serving! Enjoy!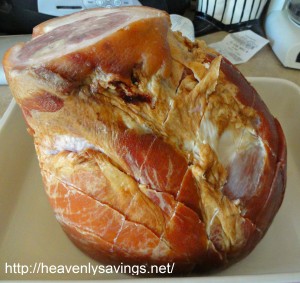 score the ham before baking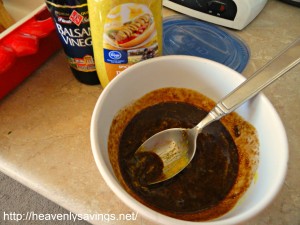 mix the ingredients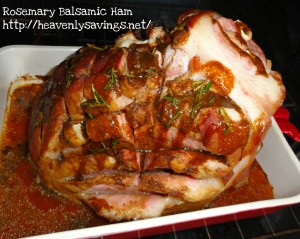 pour marinade over ham and bake
Don't forget to click the 'Magic' button below for Nutritional Information and Weight Watcher's points for this recipe!

I got the idea for this ham from Parents Canada!