Baked "Hard Boiled" Eggs
I love hard boiled eggs. They are one of my all time favorite snacks. Hard Boiled Eggs are high in protein and low in calories making them a perfect quick healthy snack. I love hard boiled eggs because I can peel and eat them just how they are or I can add them to my lunch time salads!
Even my daughter loves hard boiled eggs and often takes them in her school lunches.
Because of my family loving them so much I often make 2-3 dozen 'hard boiled' eggs each month. But, all that cooking was getting tiresome. The truth of it was I was either getting them over done or not done enough. That is whey I decided to start baking my 'hard boiled' eggs. I love this idea because it get's the eggs cooked perfectly each and every time.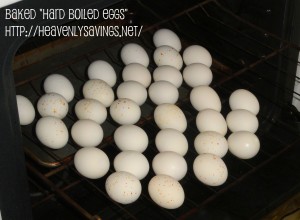 The first thing I do is make sure the baking rack is right in the middle of the oven.
Next I pre-heat the oven to 325 degrees.
Then I place the eggs on the baking rack. When doing this I make sure non of them are touching. Also if you have more then one rack in your oven I would advise you to place a rack on the bottom and place a cookie sheet on that rack. That way if any of the eggs break the mess will be easy to clean up. (I have never had an egg break so it does not happen often.)
Once the eggs are in the oven I bake them for 30 minutes. When they are done they will have brown spots on some as shown in the picture above. It is nothing to worry about.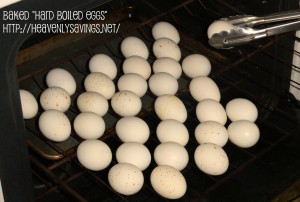 Once eggs are done baking, remove them with a pair of tongs or something that will grab ahold of them. They will be HOT!
Immediatly place the Eggs into a sink filled with COLD ICE water. This will help to shock them and keep the yolks from turning that funky green color!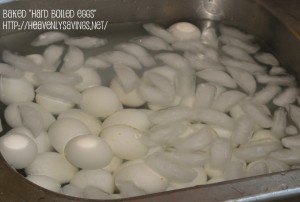 After sitting in the ice water for about 10 minutes your eggs will be done! Peel and enjoy right away or place them in the fridge and save for later! Yum!