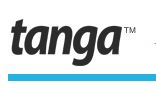 Dash on over to Tanga and grab yourself one of these amazing deals!
Save 87% on this Auto Open & Close Magnetic Screen Door!! Originally priced at $39.95 but you can grab up these deal today for $4.99!! This is an awesome magnetic screen door that opens and closes on it's own so you don't have to touch it! Get ready for those summer BBQ parties and carry two things at one time because you don't have to worry about opening the door! Plus you don't have to keep letting your dog in and out…it will automatically open and shut on it's own keeping the flies and bees out!
Speaking of summer time and being prepared – now is the time to rush over to Tanga and get this 3-in-1 Handheld Camping Lantern with 3 Super-Bright LEDs, Night Light and Hanging Strap!! I love to camp and I can already tell that this will be able to hang inside my tent which leave me hands free! Brilliant! I love the fact that it also can be used as a night light as well because it dims to a low setting. But also it can be put on the picnic table and used as a lantern along with the traditional use of a flashlight too! Very versatile and handy to say the least! Originally priced at $29.99 but on SALE for $7.99 with FREE SHIPPING!! Now I can't wait to go camping!
Ok since we are talking about being outdoors, you are going to need to have some nice protection for your eyes and here is a great deal for you! Nike Unisex Plastic Sunglasses that come in 4 different styles!! These are going to be able to get the job done and protect your eyes and make you look good while wearing them! I happen to love the look of the Violet Pilot Frame and it's not just because I love saying that over and over. These unisex Nike sunglasses are priced originally at $109.00 on up but Tanga has them for $34.99!! Talk about a stellar deal!
Nothing wrong with grabbing these now for gifts around the holidays…we will be seeing the man in the red suit in about 221 days so it's never too early to start getting these awesome deals!
Head over to Tanga today and check out all their great deals!
~Tammy~